Lawnsmith
Voracio powers the UK's leading lawn care website for everything from feeding to weeding
Website Highlights

Help & Advice Articles
Strong Social Proofing
5 Star Reviews
Facet Filtering
Open Banking
SEO Authority Figure
Rich Product Data

Professional Services

Packaging Design
Banner Design
Attribute Structure Build
Navigation & Listings Build
Facet Filtering Build
Replatforming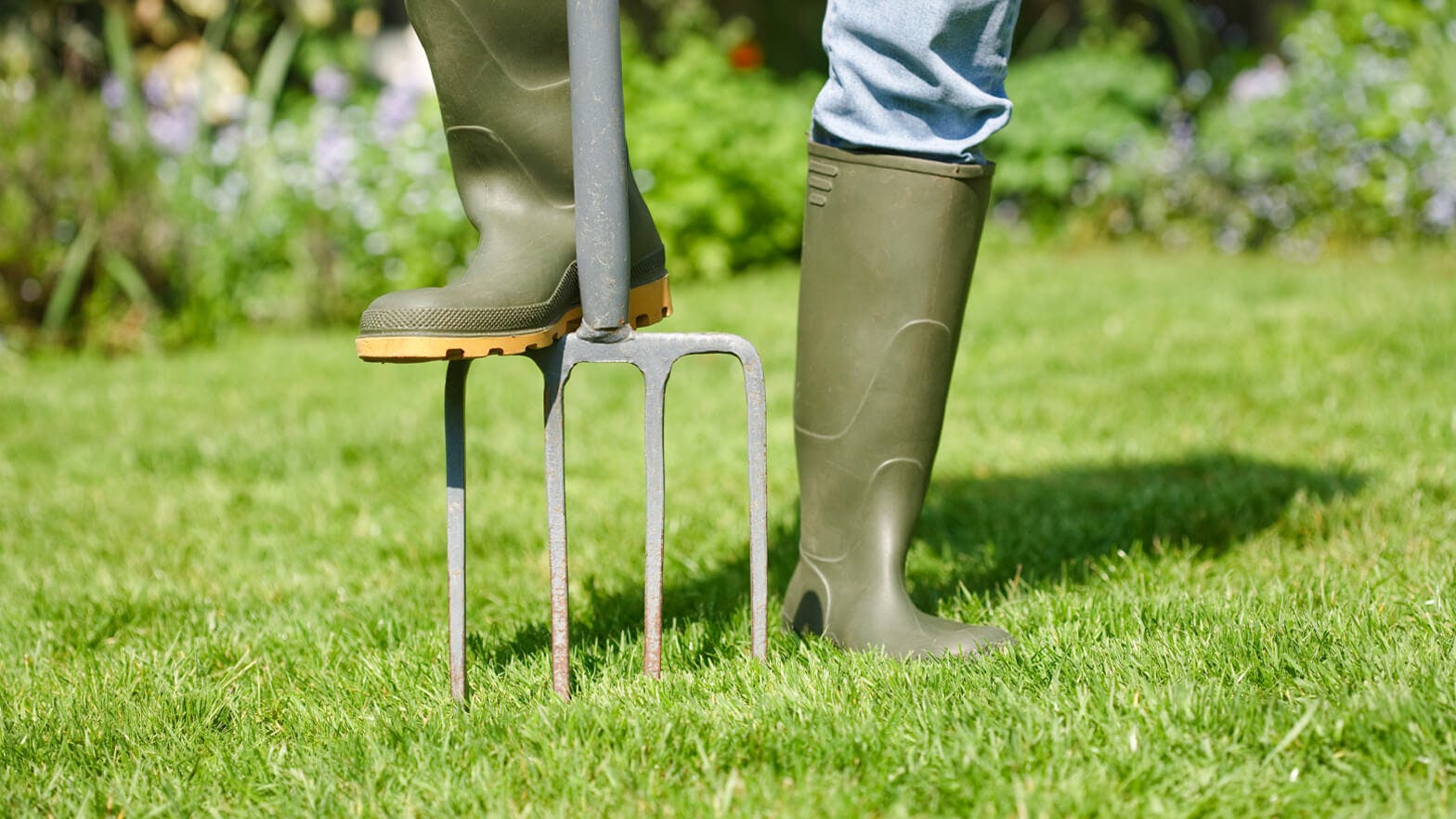 The grass really is greener at Lawnsmith
Established in 2003, Lawnsmith are the UK's No.1 lawn care website for everything from feeding to weeding. Their trademarked lawn fertiliser range has been developed as a superior lawn and grass care product specifically for the UK climate.
Lawnsmith have been a client of Voracio for over 10 years and through this period both our legacy platform and in recent years Voracio SaaS Commerce have been fundamental to their rise in becoming the UK's leading lawn care experts. We originally met founder Bob Garner back in the days of Business Link many years ago and we quickly struck up a rapport with our mutual passion for eCommerce.
Lawnsmith is an online only business that has seen incredible organic growth over the past 10 years, we almost always discuss the factors behind the success of Lawnsmith to prospective clients. It sits as one of the benchmarks of how high quality content alongside a super clean and user friendly website can bring super profitable results.
Moving to Voracio SaaS Commerce has provided us with many new and exciting features. We were particularly excited about the capabilities of the new Editorial Suite as our content is such an integral part of our website.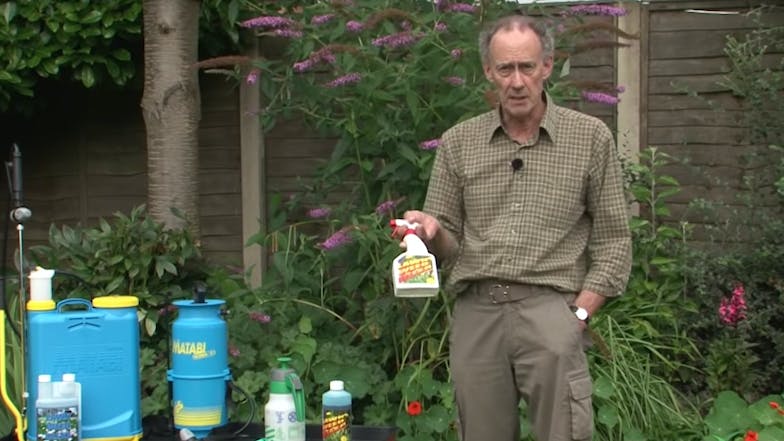 Lawnsmith. An authority figure.
Lawnsmith achieves incredible results on Google organic search, by this we are talking first page results for generic and extremely competitive phrases such as 'moss killer' or 'lawn care', alongside high quality traffic from longer tail key phrases. Traffic to the Lawnsmith website is what's referred to as highly qualified. When users land on the website, they are met with a beautifully designed, professionally built website that is extremely informative and highly functional, it resonates trust and authority.
Founder Bob at Lawnsmith has incredible knowledge of everything related to lawn care and the powerful features on Voracio has empowered Bob to voice this knowledge throughout the website by means of quality product content, buying guides, advice articles, videos and much more.
"I'm continually adding content and the editorial suite makes this process very simple and offers all the features I need to create great help, information and video content," Bob says.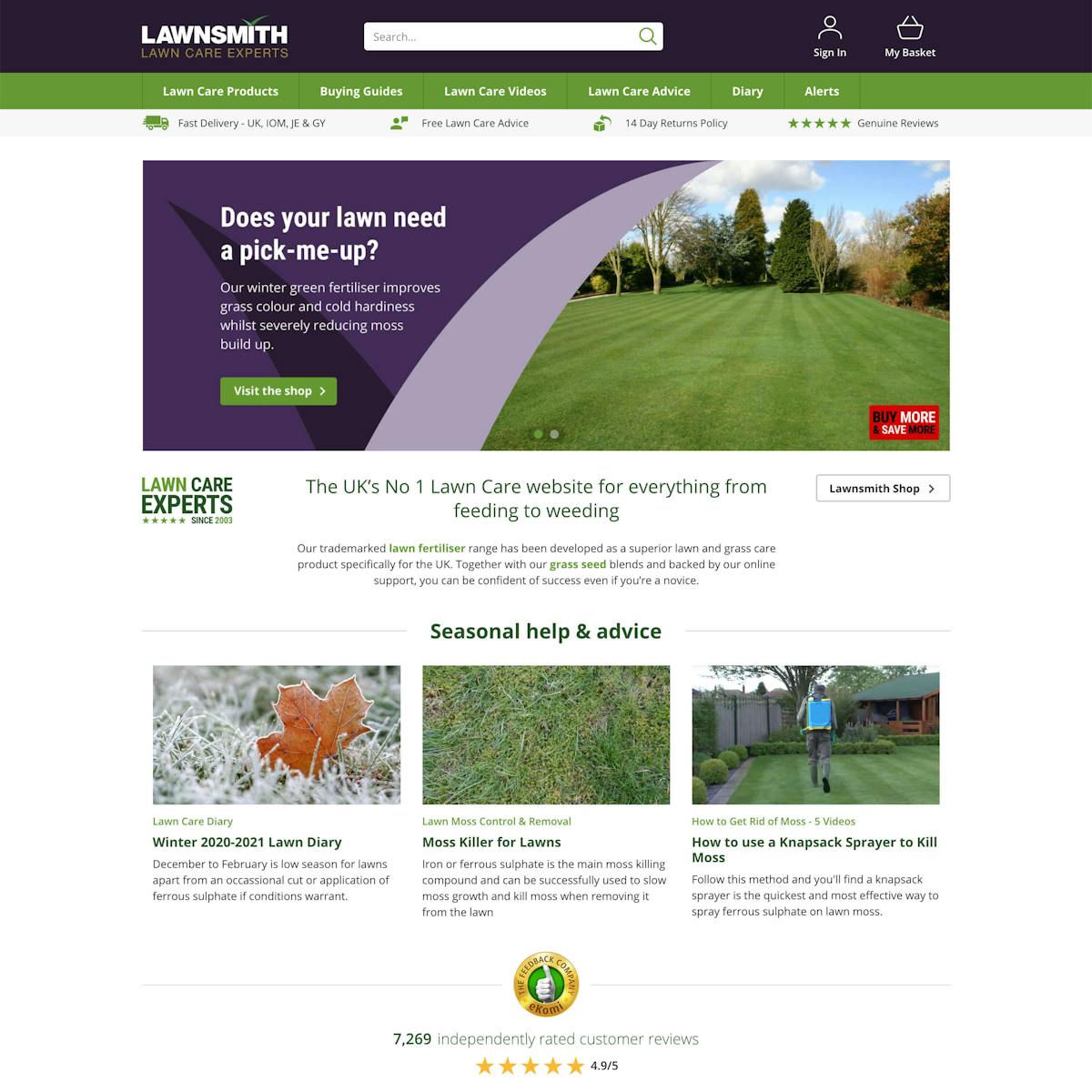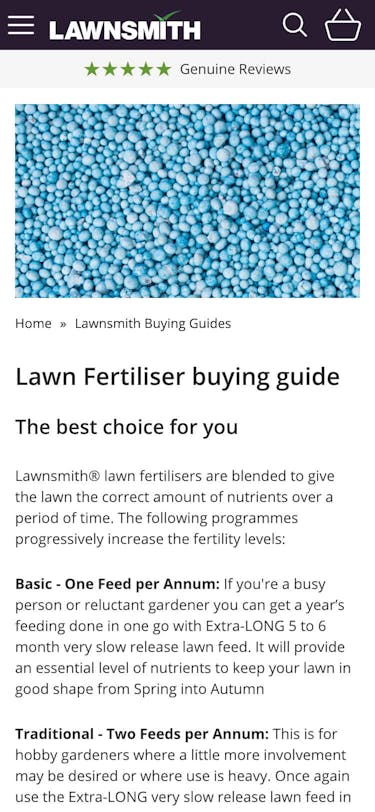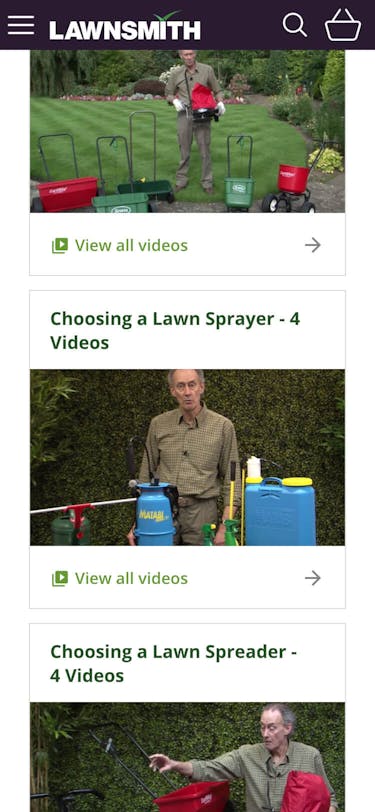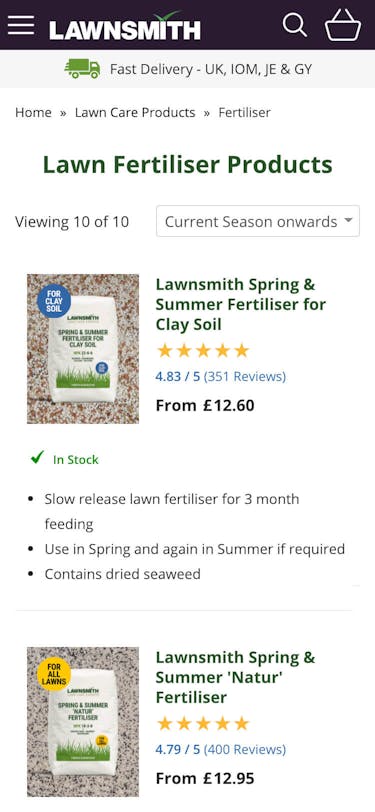 Lawsmith lay down the knowledge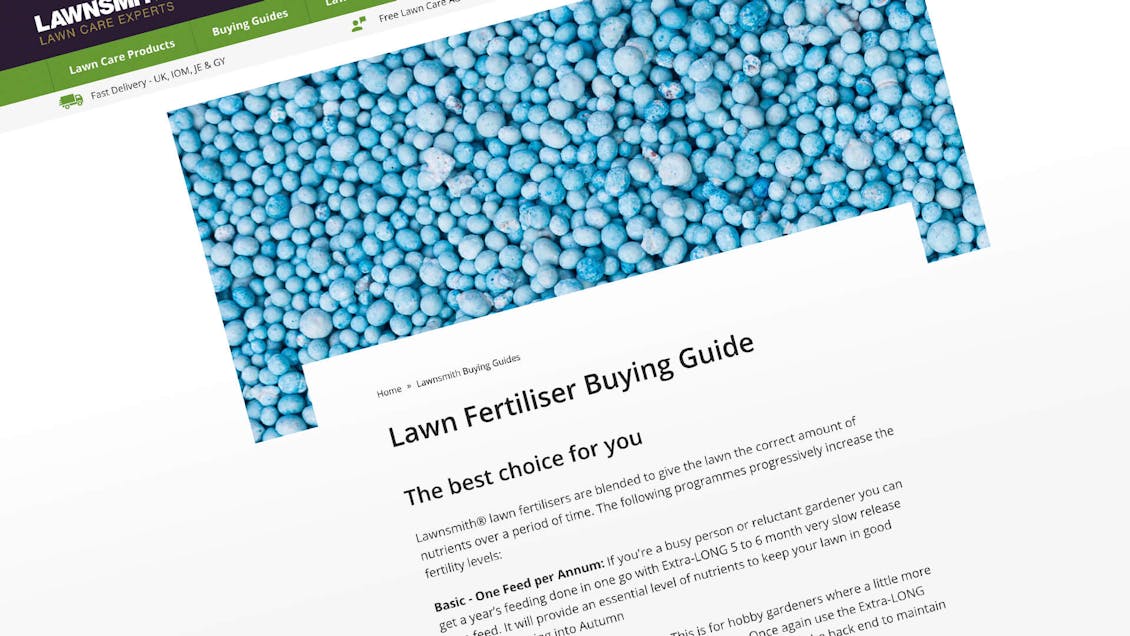 Buying guides
A series of buying guides covering the range of products available at Lawnsmith. Many questions are answered on these guides, which is great for the user and Google! These articles contain standard text links alongside dynamic product insertion and follow through links to more guides. Powered by our Editorial Suite.
How-to videos
Lawnsmith are using Voracio's Editorial Suite to showcase their how-to videos. With most tutorials having multiple videos, Lawnsmith have created topics to group step-by-step videos together on their own pages.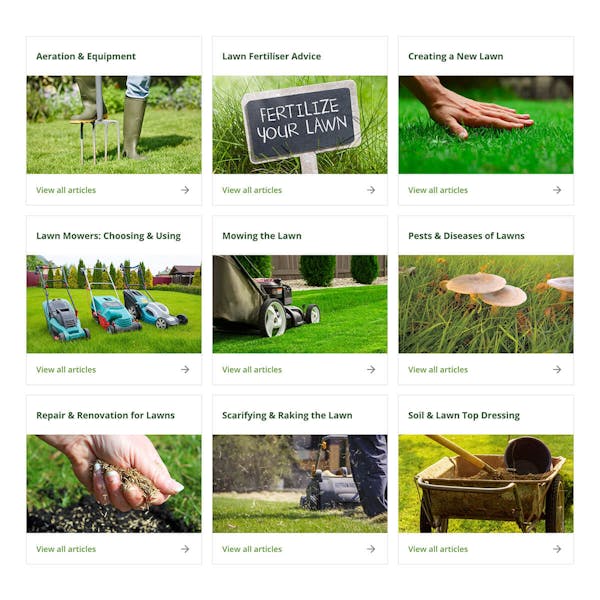 Lawn care advice
Lawnsmith are also using the Editorial Suite for their lawn care advice articles. Again, by utilising the topics feature Lawnsmith have created pages for related articles, allowing users to access specific advice all in one place. Many articles feature dynamic product insertion.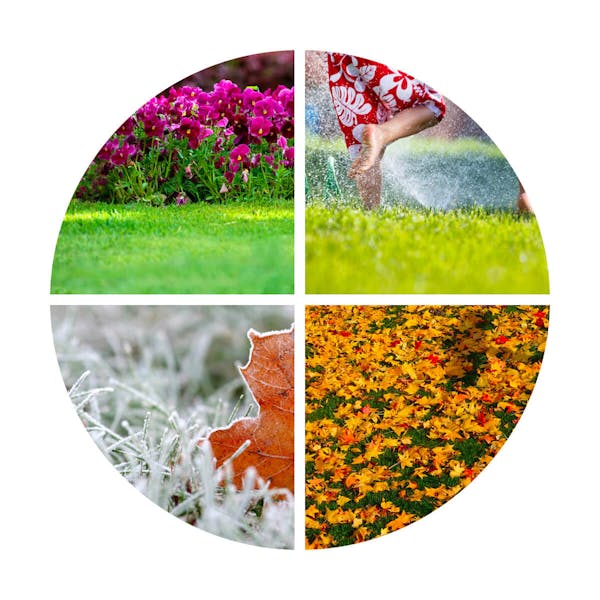 Lawn care diary
Together with their grass seed blends and online support, customers can access the lawn diary for timely advice and progress to more in-depth guidance with lawn care articles and how-to videos.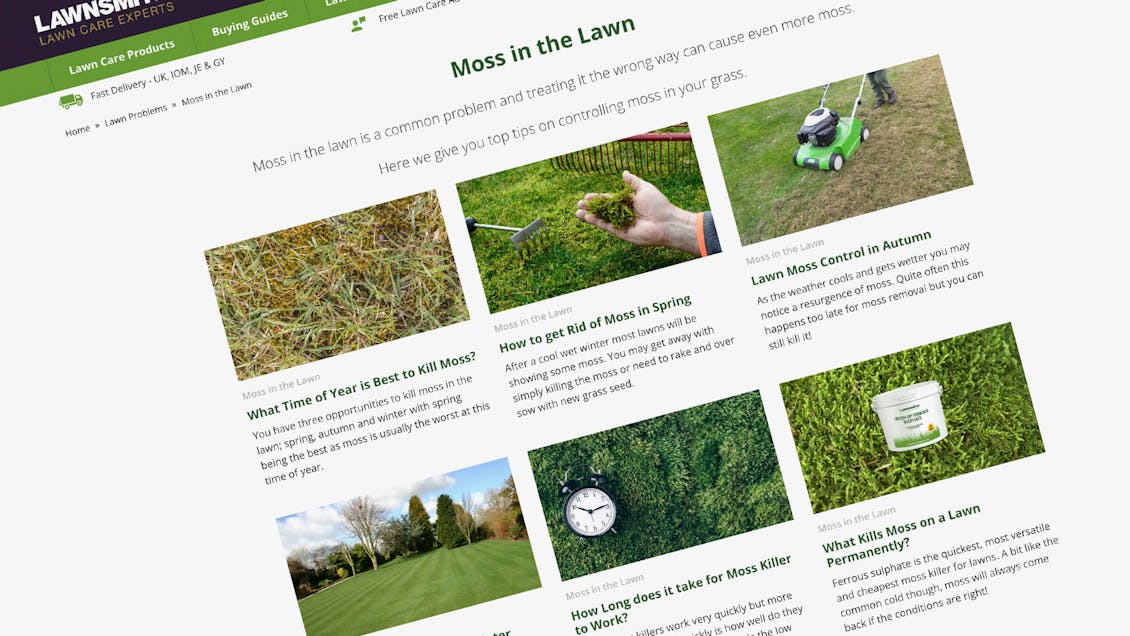 Lawn care problems
Another fantastic series of articles covering many common problems of the lawncare enthusiast. All genuine high quality content that generates highly qualified free traffic.
More great features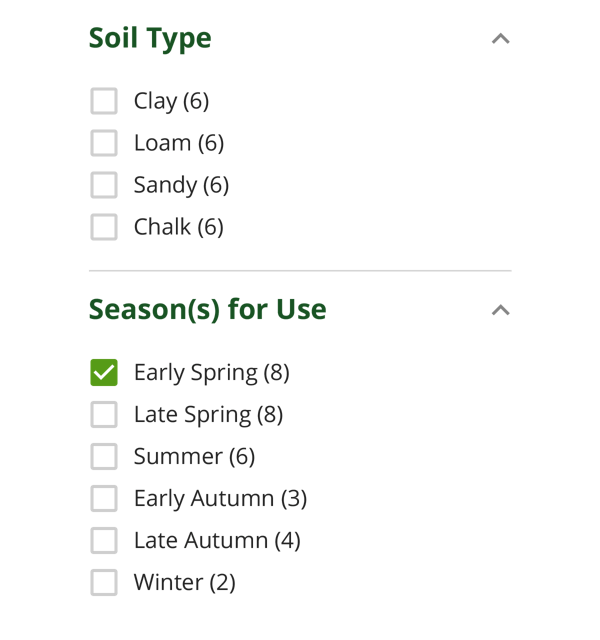 Attributes & filtering
Voracio provides Lawnsmith with unlimited usage of attributes with the ability to use any attribute as a facet filter. Listing pages, specifications, promotions and more all utilise information stored in attributes. With Bob's in depth knowledge he has provided his users with detailed product descriptions and easy to use product filtering.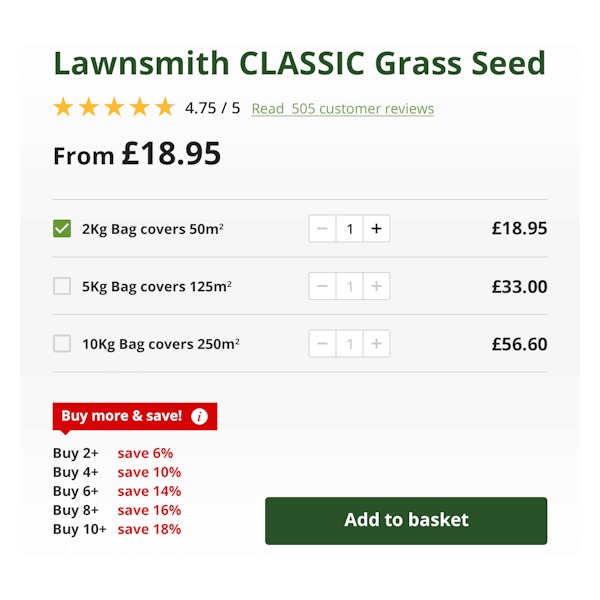 Buy more and save more!
Another key benefit for Lawnsmith customers is having the ability to save money when they buy more of the same product. This feature had been used on the legacy platform for many years and was enhanced for Voracio SaaS Commerce. Lawnsmith uses percentage based discount thresholds, these can also be set as flat rate discounts.
The multi buy discounts feature on the current site is great for our grass seed and fertiliser products," Bob says. "We've gained a loyal customer base over the years and they love to save by buying in bulk so it's a must have feature for us.
Service and product reviews
Lawnsmith pride themselves on their genuine customer feedback, for almost 10 years Lawnsmith has used eKomi as their review provider. They have accumulated a huge amount of reviews, both service and product reviews, averaging over 4.8/5 which is an incredible achievement.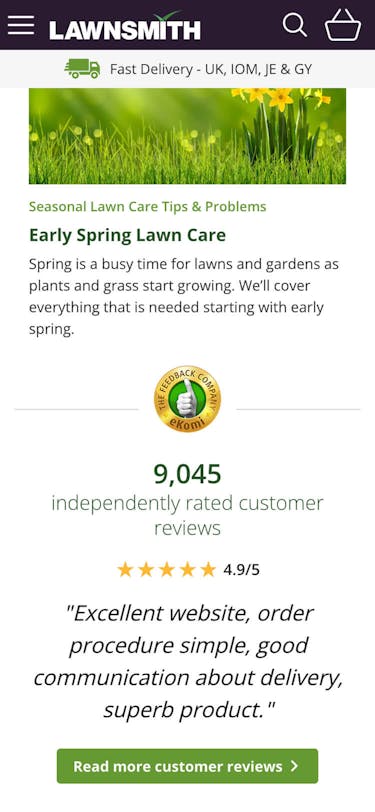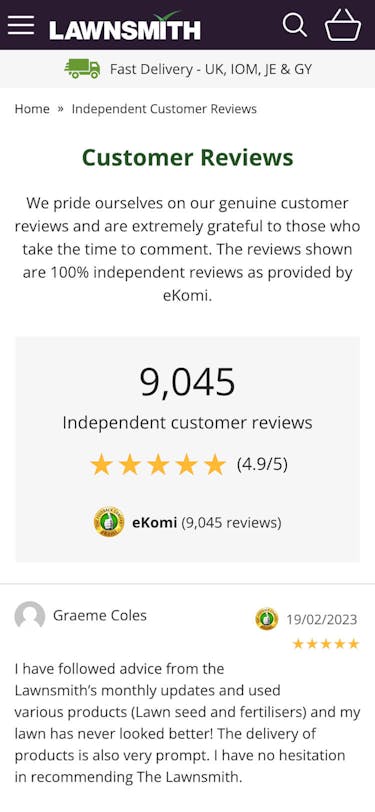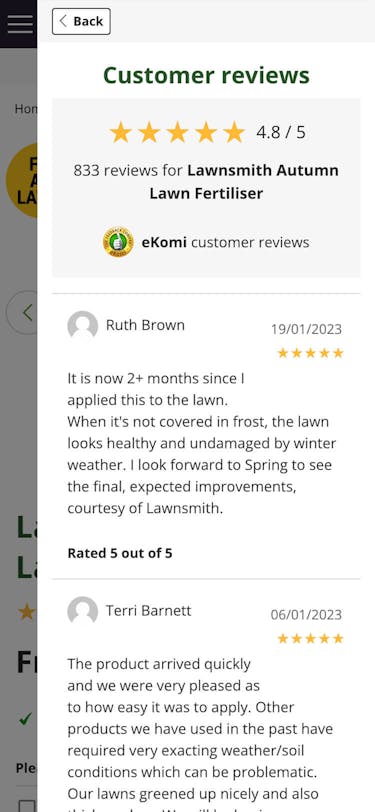 Within these thousands of reviews are a vast amount where the customer has left positive feedback on the website experience, alongside top quality product feedback. Because we tap into the raw review data rather than using stock widgets like most other platforms, Voracio is able to offer extra 'professional grade' user enhancing features such as filtering and sorting by reviews plus dedicated site pages and dynamic review banners.
Powered by Voracio, Abaris have a proven track record in the supply of technical equipment and apparel for the Outdoor Professional.

I can highly recommend the team at Voracio for anyone seeking a highly capable platform backed up with personalised support.

The UK's undisputed leader in Airsoft, year-on-year growth with Voracio heading up a highly bespoke eCommerce ecosystem.

The platform's scalability has enabled us to handle an increasing volume of orders as our business has grown, and we look forward to continued success with Voracio's support.

Transformative product management for this market leading online appliance retailer.