The UKs leading online and point of sale finance provider is fully integrated with Voracio.
Increase sales and conversion rates for higher value items, our integration with Novuna Personal Finance PaybyFinance sets the gold standard for user experience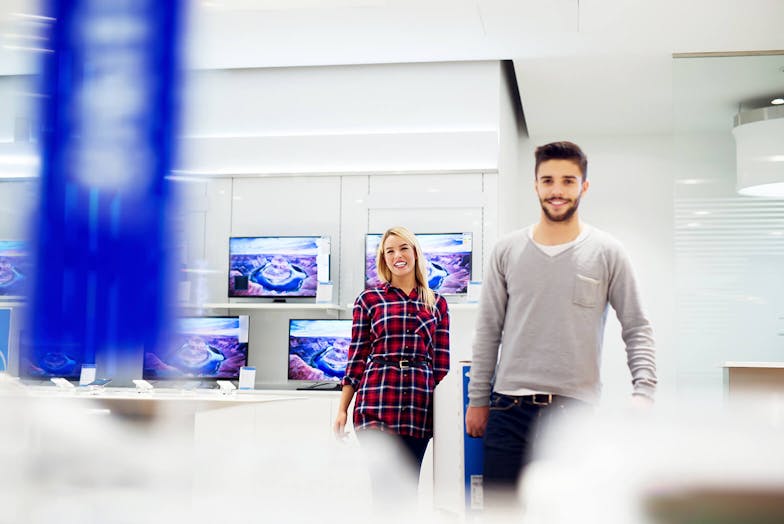 Novuna has over 35 years experience in the finance industry, with well over 4,000 retailers in the UK trusting them for affordable credit solutions. They have a wide range of finance products from interest free, interest bearing, to buy now, pay later. Novuna is the go-to choice for many of the UKs high street giants such as B&Q.
Voracio is thrilled to partner with Novuna and are confident that we have the most considered, robust and user-friendly integration when compared to other eCommerce platforms. As of October 2021, Voracio features a smooth integration with PaybyFinance CM3 (Creditmaster 3), which is the latest offering from Novuna.
We have integrated with Novuna before on our legacy platform, using their old CM2 system. CM3 was an all new integration, we took all our experience gained from the legacy platform integration and ensured we nailed the user experience on Voracio SaaS Commerce.
Without getting into too much tech talk, by nature, finance integrations are complicated, there are many, many user journey scenarios that can cause issues with the payment flow. We most often see that websites using Novuna on other ecommerce platforms suffer from conversion rate crippling user experience issues. We took great time and effort to ensure our PaybyFinance integration has a super smooth user experience, is intuitive and stable.
Looks great on the front end
For products that are eligible for finance, we show the user an indication as to how low they could get the item on 'the monthly' for a popular deposit, APR and term. The user can click through to view options and is presented with intuitive choices along with a dynamic finance summary; their selection here can be saved.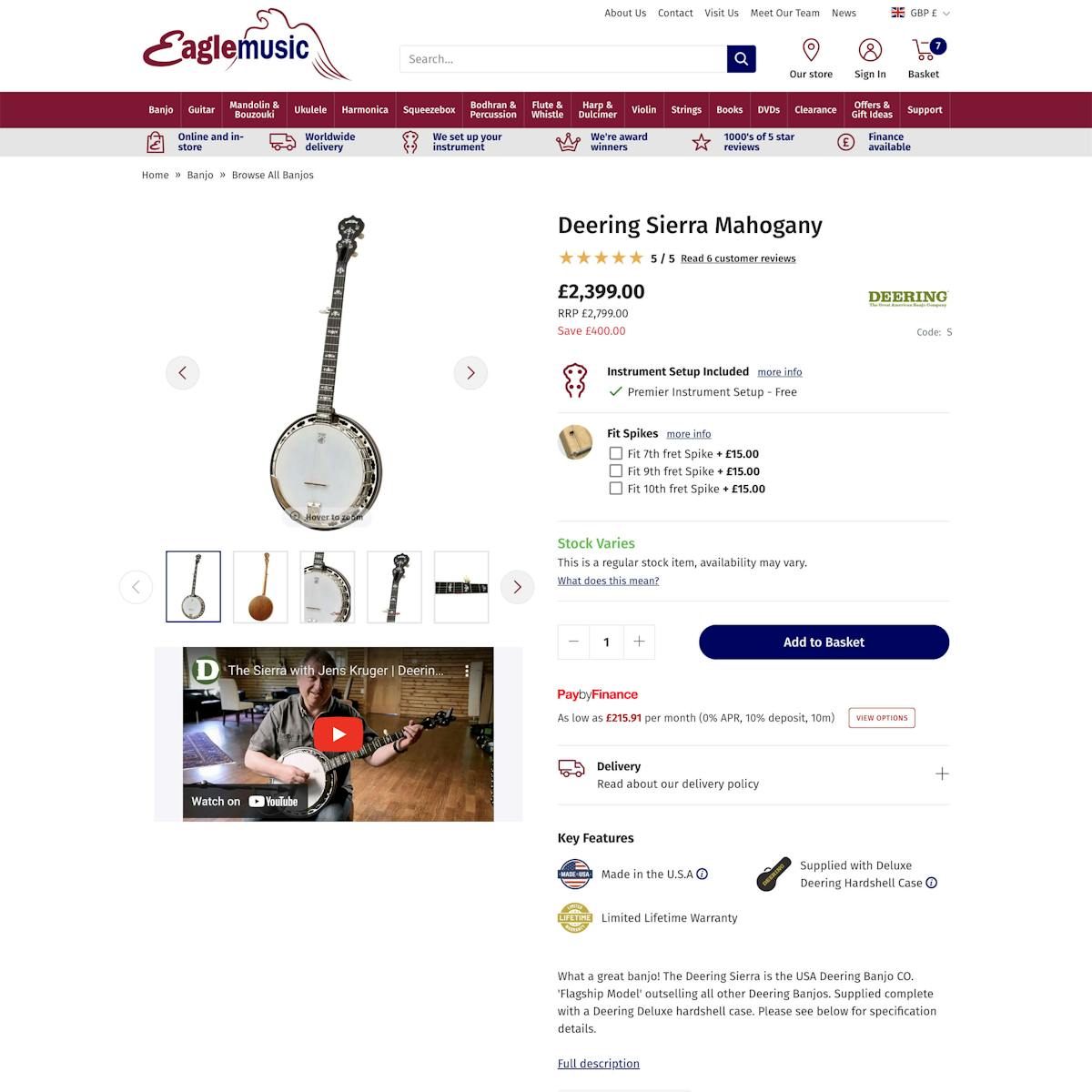 If the product price doesn't quite meet, but is close to the price threshold for finance, we also consider any items currently in the user's shopping basket, in the knowledge that the combination of the item they're looking at, with the basket items, could then meet the threshold. The user can simply tick a box to toggle between the two. This and more fine detail are at play on product pages, allowing for a much smarter solution than found on other platforms 'plugin' implementations of PaybyFinance.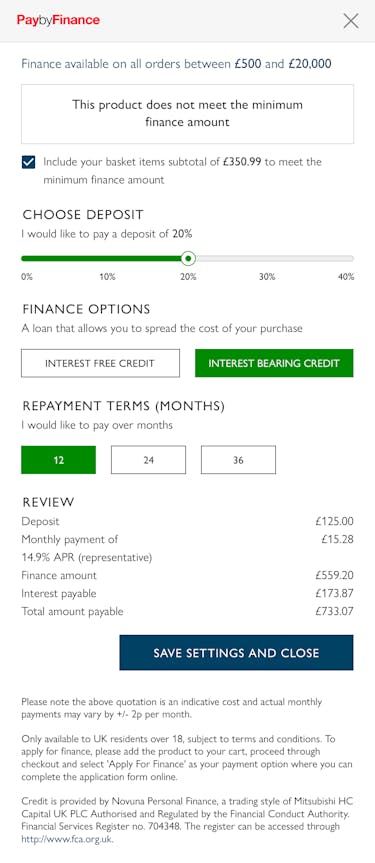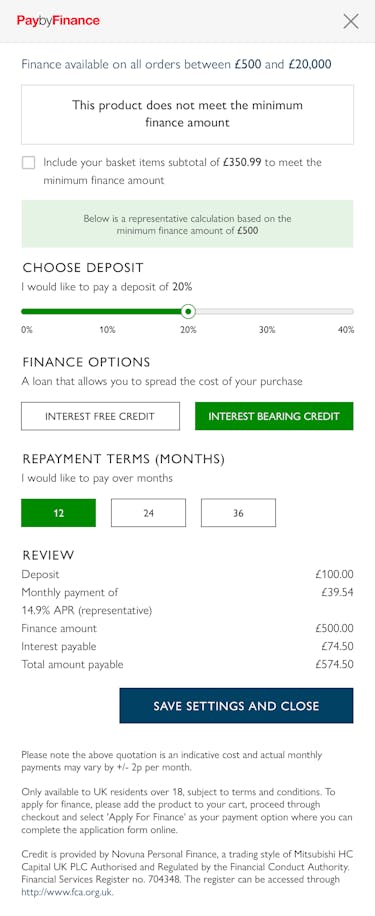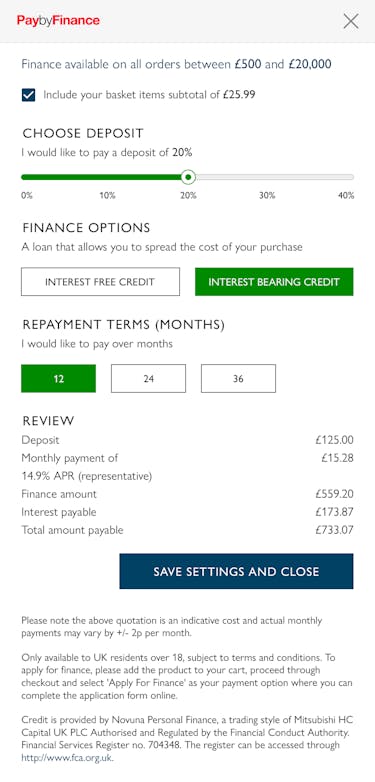 During the checkout flow, the user can choose PaybyFinance and/or change their chosen finance terms. The terms most often include a deposit, APR option and repayment term. A summary is provided and the user can now easily proceed with their application at Novuna. Once the application is completed at Novuna, the user will be given a response, such as Accepted, Declined, Referred and based on these responses the user journey is completed back on the merchant's website. If a deposit is required to be paid, we offer the customer other payment methods, most often card payment or PayPal so that they can complete their order. Details of the application are automatically passed back to the Voracio manager.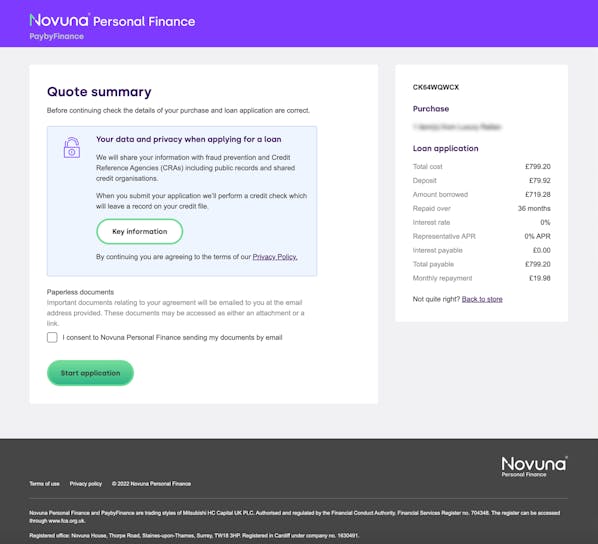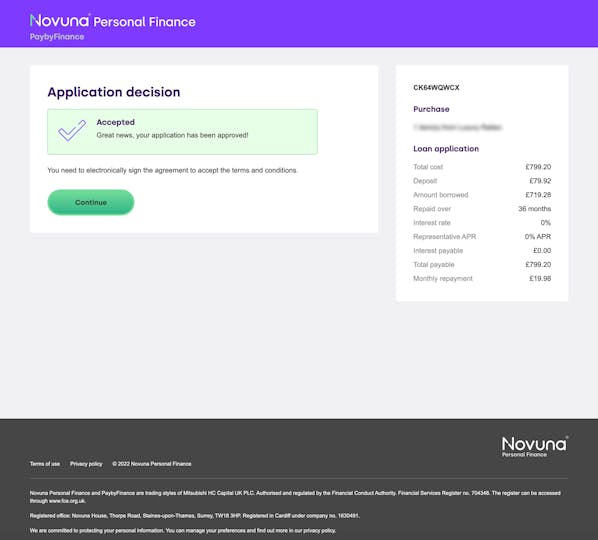 Finance products are easily configured in the Voracio manager
Novuna offers many finance products, these are tailored for and agreed between the merchant and the Novuna onboarding team. Our advanced integration enables us to easily make additions and changes to finance products directly within the Voracio manager, with no additional development required. We can quickly configure APR rates, min and max loan value, min and max deposit, default deposit, deposit step increments, terms, multipliers, deferral periods and more.