Vyne integration with Voracio Commerce
Powered by Open Banking, Vyne Pay with bank enables businesses to offer cardless payment experiences to customers which results in higher conversion, faster settlement and reduces fraud risk.
We have partnered with Vyne. Our direct platform integration enables our clients to add Vyne Pay with bank quickly and easily.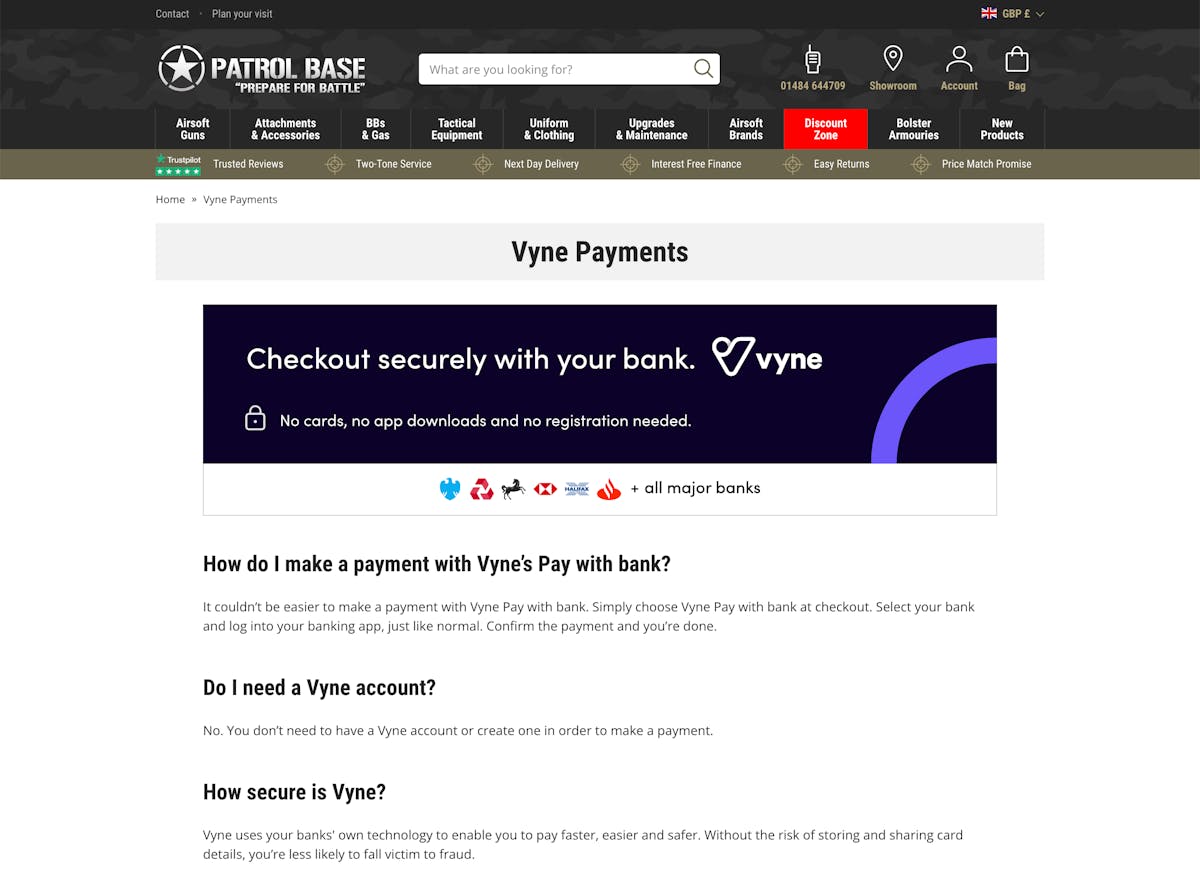 We're thrilled with Vyne's integration with Voracio Commerce. The Voracio Commerce team are experts in their field and the integration with Vyne Pay with bank further validates the quality of their work.
Vyne Pay with bank can help you maximise your business growth
Reduce transaction fees.
With Vyne Pay with bank you can bypass expensive intermediaries and save on transaction fees. Vyne Pay with bank client, Pendragon, save 73% on transaction fees versus card. Learn more here.
Increase conversion with seamless payment experiences.
With Vyne Pay with bank there are no cards, no registration and no manual data input needed. Your customers can make payments directly from their own banking app in as little as three clicks.
Reduce the risk of fraud by improving security with Secure Customer Authentication.
Say goodbye to chargebacks and fraudulent payments. Vyne Pay with bank uses bank-level security and biometric authentication to ensure the payer is who they say they are. Peace of mind for you and your customers.
Streamline cash flow and with instant settlement and refunds.
Don't wait days or weeks for funds to settle. Get paid and refund instantly with Vyne Pay with bank.
Vyne Pay with bank is already used by innovative retailers across the UK including the UKs leading Airsoft retailer, Patrol Base.
Want to see Vyne Pay with bank in action? Watch this short video.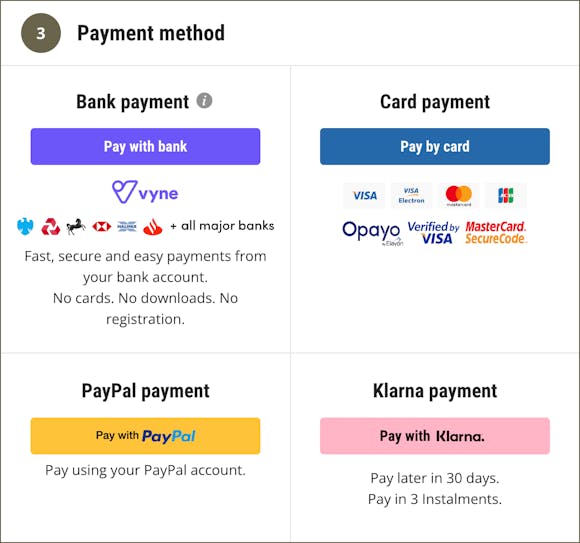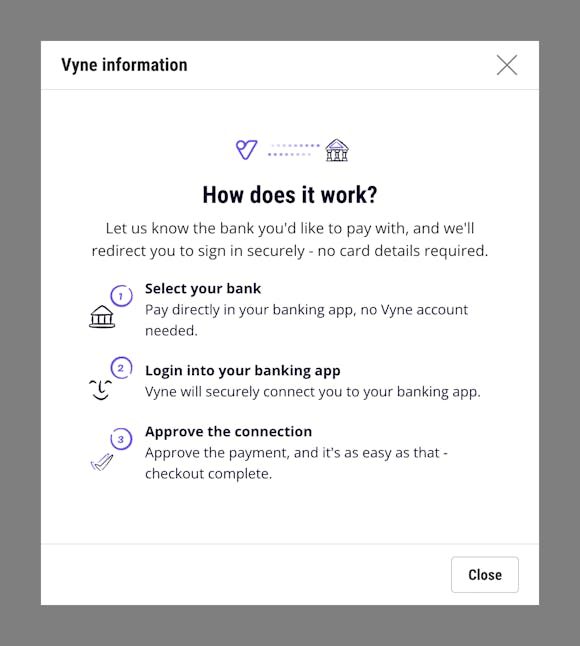 Vyne Pay with bank features
Single payments
Seamlessly collect one off payments from your customers through mobile and desktop checkouts. Say goodbye to waiting days for funds to settle, they now arrive in your account in seconds. You also benefit from reduced fees, instant refunds and no more risk of chargebacks.
Simple, secure checkout
Your customers benefit from a cardless payment experience, allowing them to pay in as little as 3 taps. They can say goodbye to typing in long 16-digit card numbers, remembering CVV numbers or cumbersome authentication checks. With Vyne Pay with bank, authentication is built into the checkout flow reducing friction whilst maintaining the highest level of security.
Instant refunds
Don't leave your customers waiting days for their refund with instant refunds. Funds arrive in your customer's account in seconds, eliminating time wasted supporting customers chasing for their refund. Your customers will have confidence in your brand and could be more likely to shop with your business again.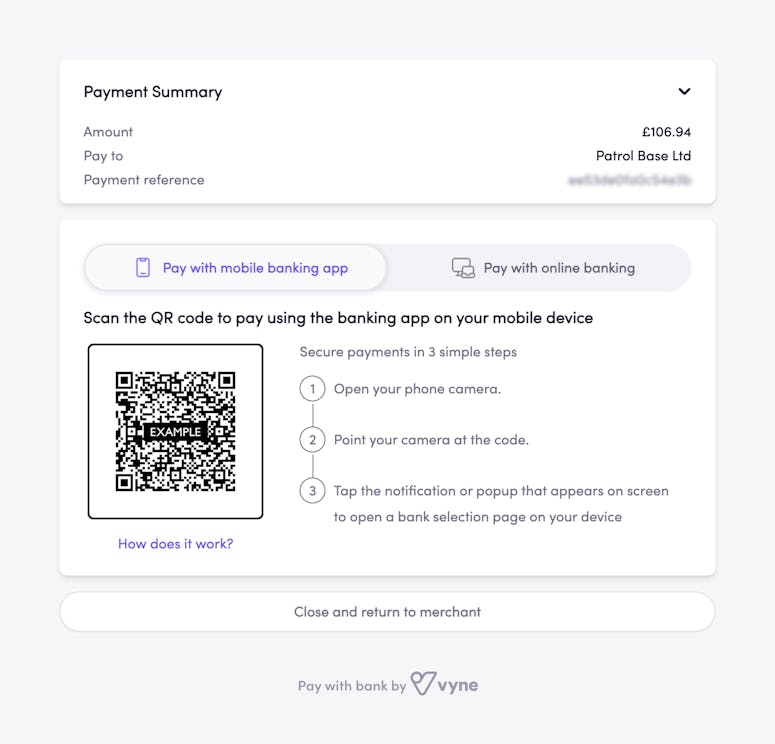 Easy, intuitive portal
It couldn't be easier to manage and reconcile your payments from within the Vyne Merchant Portal.
How to get started Vyne easily through the Voracio platform
Ready to get started? It couldn't be easier as Vyne has integrated directly into the Voracio platform.
The Vyne sales team are ready to talk you through the details. Complete this form and they'll be in touch to arrange a call.