Abaris International
Powered by Voracio, Abaris have a proven track record in the supply of technical equipment and apparel for the Outdoor Professional.
Website Highlights

Rich Product Data
Large Navigation Structure
Help & Advice Articles
Facet Filtering

Professional Services

Replatforming
Data Migration
Abaris are one of the leading suppliers of technical height and water safety equipment in the UK
Established in 2003, Abaris specialise in the supply of a wide range of high quality outdoor and adventure safety equipment. They are official stockists of the world's leading access and safety equipment brands such as Petzl, KASK, Skylotec, Singing Rock and more. Most of the equipment they supply is of a high technical nature which makes it an ideal fit for the product information management capabilities of the Voracio platform.
Abaris International has a long history of supporting those who support others and they are proud to have many customers within the emergency services organisations and personnel including Fire and Rescue, HM Forces and Mountain Rescue. Customers such as these in many cases need to be assured that the equipment they're buying meets specific technical safety requirements, so they needed to work with a platform that easily facilitated the management of highly technical products.
Abaris has worked with the team at Voracio for over 10 years. Throughout this ecommerce journey they have grown from strength to strength and their fantastic website is now powered by the Voracio SaaS Commerce platform. They have captured the attention of their information hungry users and established themselves as a trusted source for safety gear.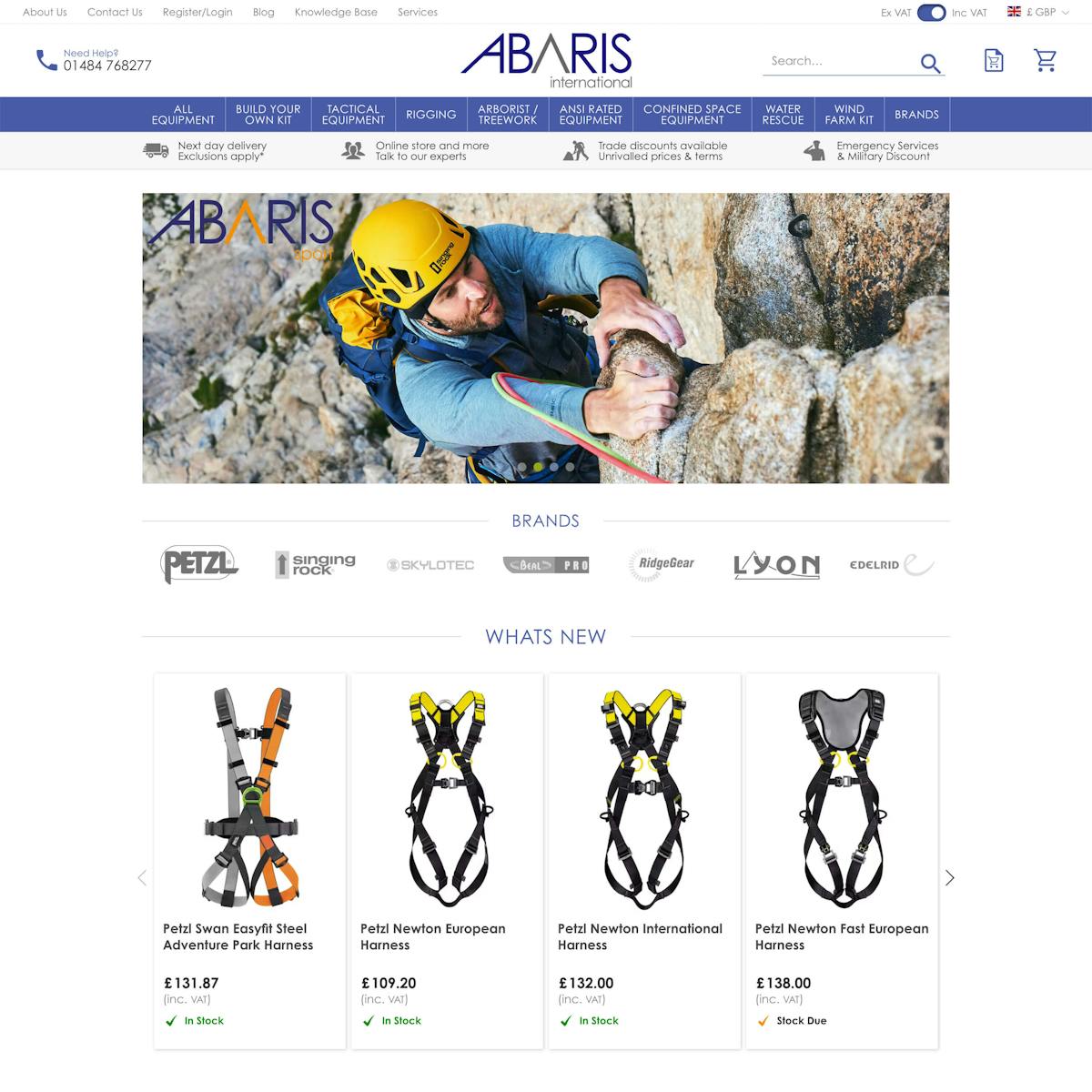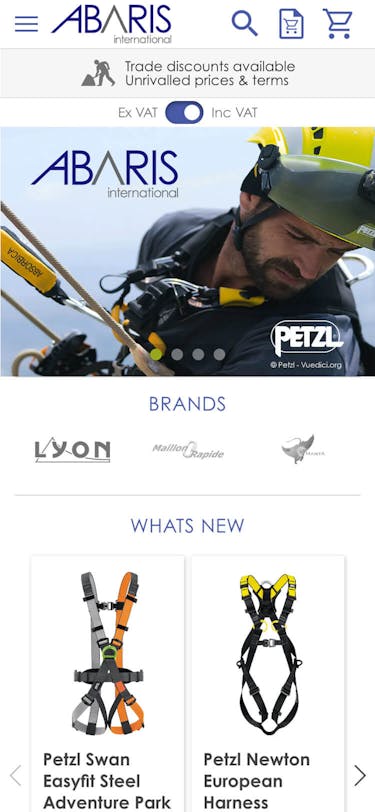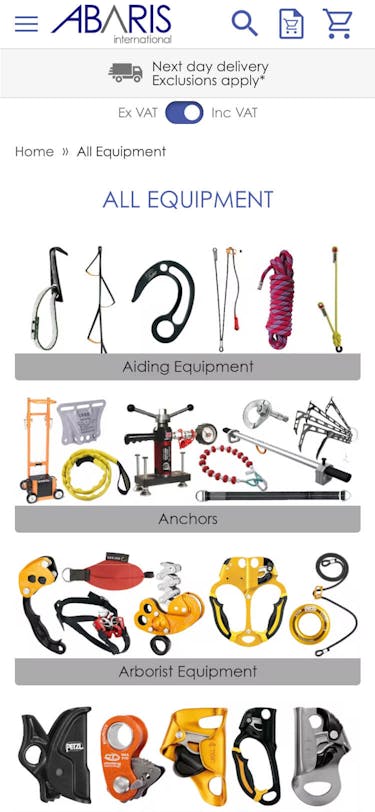 I can highly recommend the team at Voracio for anyone seeking a highly capable platform backed up with personalised support. On occasion we have requested unique feature development that in concept would work very well for our individual needs, each time Voracio has delivered the goods truly above and beyond our expectations, full credit to them, excellent problem solvers!
Quotation basket
A relatively recent addition to the Abaris website has been the cart quotation facility, which has received significant usage since its deployment. This module is an extension to the standard shopping cart functionality, allowing a different type of cart to be built up by the site users which can then be submitted to the Abaris internal sales team.
We worked closely with the team at Abaris to thoroughly understand the business logic for such a feature, it caters for a number of particular reasons why such a module is very effective for the structure of their business. Once we understood the clients requirements, we scoped out the task and came back with our suggestions which took the functionality to the next level.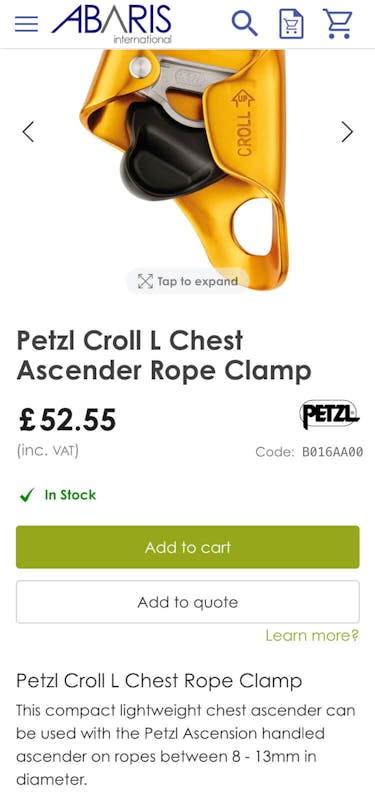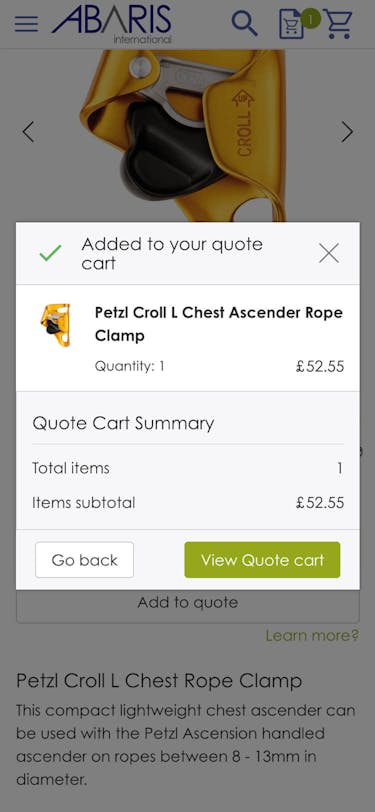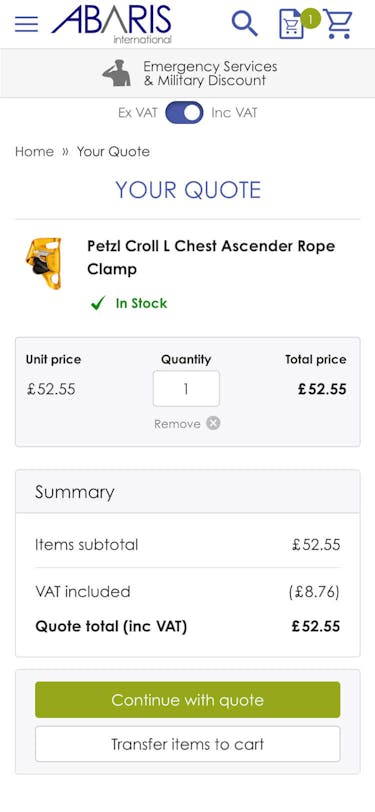 Client collaboration is often at the forefront of how we develop new features into the Voracio platform and this was a typical example where great ideas and exceptional bespoke development expertise collide to deliver exceptional results. Abaris users have adopted the new functionality extremely well.
Amongst other features, users can either add items to the standard cart, or to the quotation cart. With configurable thresholds, Items can be transferred from one type of cart to another. Submission of a quotation cart stores in the backend as a quotation order ready for additional internal processing. Separate cart email templates are used for confirmation order emails.
Our cart quotation module works very well for us, since adding it to our site we've noticed a tangible increase in our conversion rates. There's no doubt it's generated us new customers
Technically complex catalogue
The Abaris ecommerce website features a technically complex product catalogue. Due to their large and diverse range of products within the outdoor and adventure sector, the range of product types and individual technicalities within each of those types is extensive. Their product catalogue has been crafted using the Voracio Attributes system to provide a seamless and informative shopping experience, showcasing the technical details and specifications of each product.
The Abaris website hosts a wealth of attribute data in the back end. Use of this complex data on the front end of the site include:
Technical product specifications


Most Abaris website users are technically inclined customers, they want and need to know intricate technical details of the products. The Voracio attribute system along with the product specification builder allow for a comprehensive display of tech data, often backed up with downloadable tech data sheets via the Voracio product assets feature. The results allow their customers to make well informed buying decisions.



Dynamic categorisation


Having a large navigation structure, dynamic categorisation is essential for Abaris. Listings are 'smart targeted' to attributes ensuring listings are always kept up-to-date and relevant as new products are added to the site.



Advanced filtering


Many of the attributes have been converted to filters, allowing customers to easily narrow down listings. There is no limitation to filter usage on Voracio, Abaris utilises many filters including sizes, materials, conformity, capacity and much more.



Conformity information


A European Standard is a standard that has been adopted by one of the three recognized European Standardization Organizations (ESOs): CEN, CENELEC or ETSI. It is produced by all interested parties through a transparent, open and consensus based process. Many products on Abaris have utilised specific attributes to assign conformity values.



Sorting algorithms


Amongst other information, Abaris have utilised product attribute information within sorting scores. Voracio uses customizable sorting scores and formulas to enable.
Sage 200 Accounting integration
Abaris required a bespoke method of passing order data to their third party sales / accounting provider. Here we studied their individual requirements and based upon what was an evolving specification, we tailored an approach to address our clients specific needs, we have implemented a solution which is a great functional fit, stable and reliable.
The UK's undisputed leader in Airsoft, year-on-year growth with Voracio heading up a highly bespoke eCommerce ecosystem.

The platform's scalability has enabled us to handle an increasing volume of orders as our business has grown, and we look forward to continued success with Voracio's support.

Award winning music shop specialising in traditional musical instruments.

Customers are increasingly impressed by our website. Its modern, professional design and intuitive user experience set us apart from the competition.

Having an appetite for more flexible, more scalable ecommerce, Little Angels replatformed from Shopify to Voracio.

The support from Voracio has been second to none, they are quite literally an extension of our team.