Patrol Base
The UK's undisputed leader in Airsoft, year-on-year growth with Voracio heading up a highly bespoke eCommerce ecosystem
Website Highlights

Large Navigation Structure
Rich Product Data
Engaging Banner Usage
Help & Advice Articles
Facet Filtering
Strong Social Proofing
5 Star Reviews
Multi Inventory Feeds
Open Banking
SEO Authority Figure
Intelligent Search
Finance Provider
Customer Defense
Acceptance Criteria
Personalisation
WMS Integration
Multi Inventory Feeds

Professional Services

Brand Identity
Attribute Structure Build
Navigation & Listings Build
Facet Filtering Build
Google Ads Management
Advanced Reviews Setup
Ecommerce Consultancy
Platform Consultancy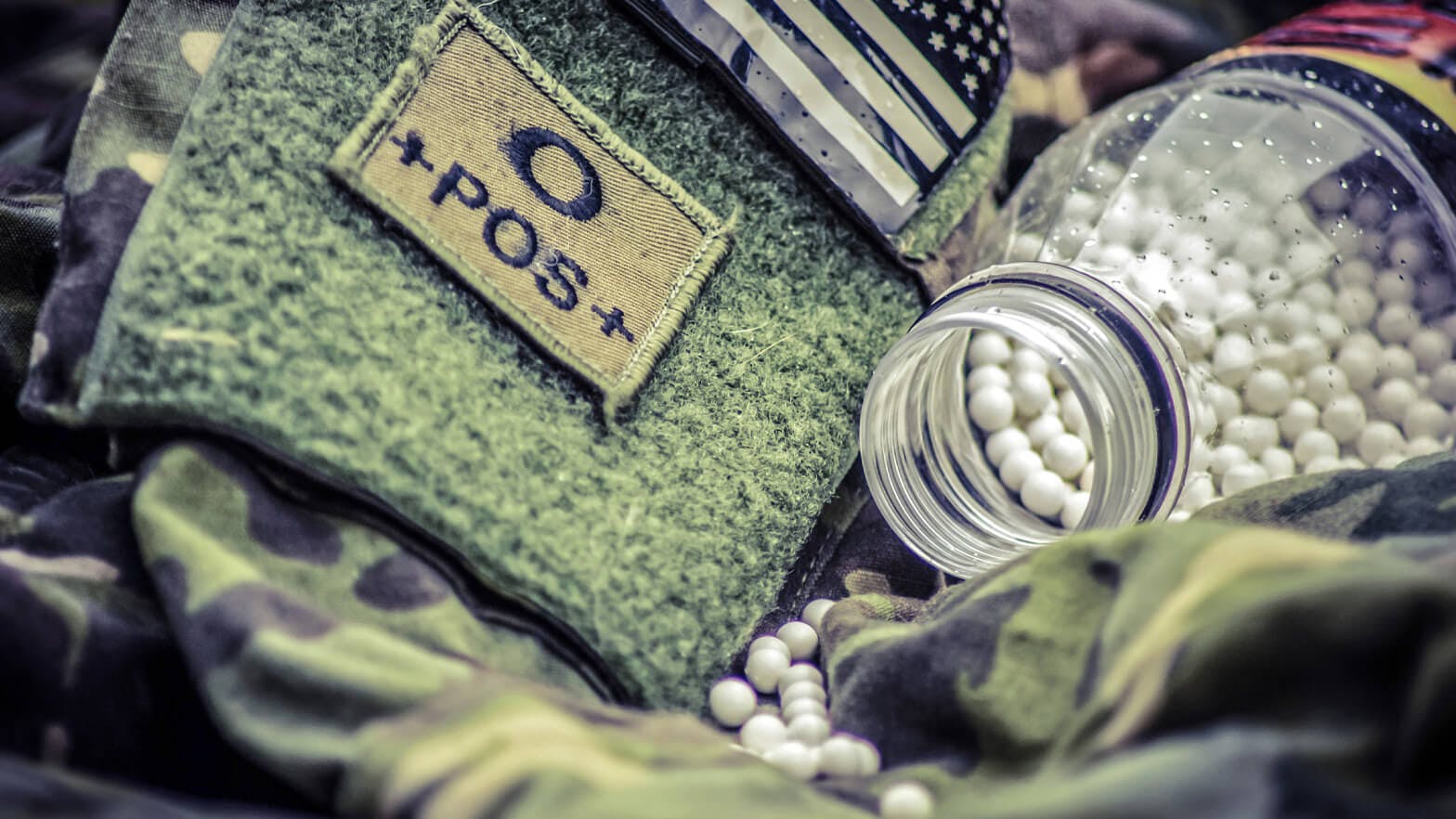 A relentless appetite for market domination
Patrol Base have tremendous experience in the airsoft sector supplying a huge range of airsoft guns, tactical gear, accessories and clothing to a technically hungry customer base. They have maintained a close relationship with Voracio since the inception of their first eCommerce website which we built in 2009.
In recent years we have replatformed Patrol Base from our legacy platform to Voracio SaaS Commerce, a process which involved a full redesign and rebuild. During the replatforming project, we developed a number of highly bespoke website features for this forward-thinking retailer, features which truly give them a competitive advantage.
The team at Patrol Base are always keen to ensure they are making the most out of the vast number of 'next level' features available to them.
Powered by Voracio, Patrol Base features an API driven integration with their on-premise inventory, warehouse, order, shipping management and POS system. Our approach to MDM (Master Data Management) ensures that they can take full advantage of the advanced product information management (PIM) within Voracio, while ensuring sufficient data is synched to the on-premise system (which has constrained PIM).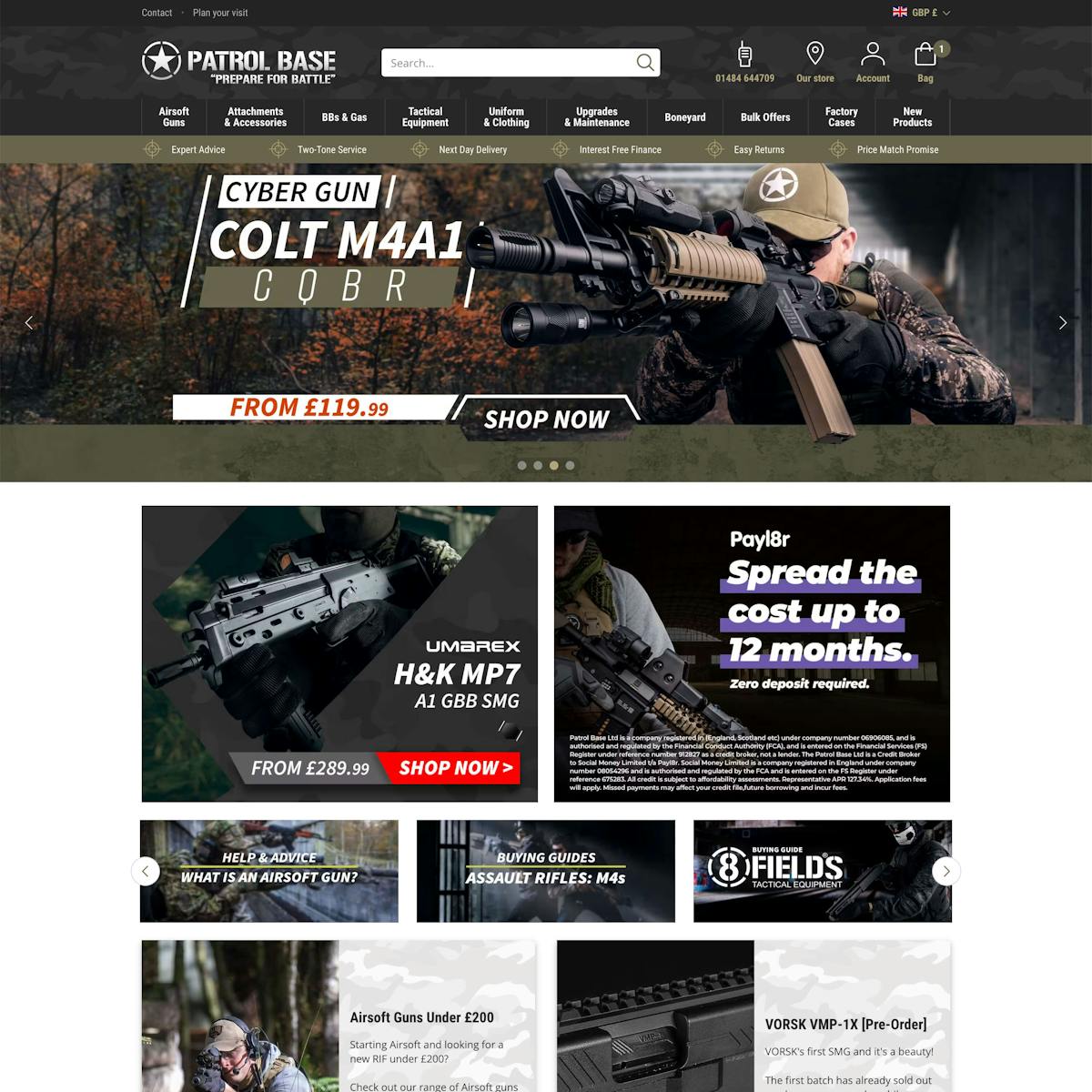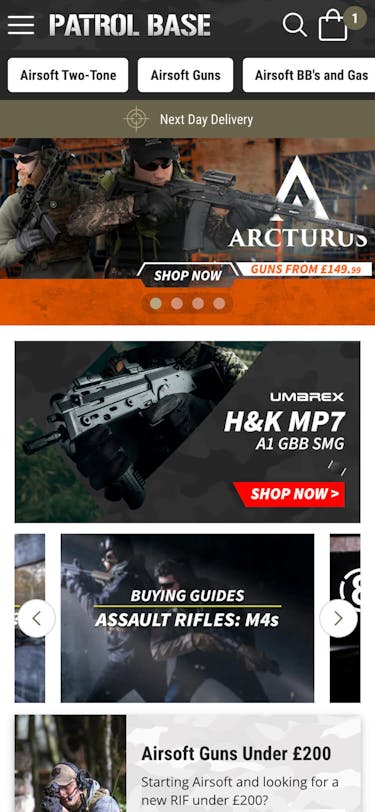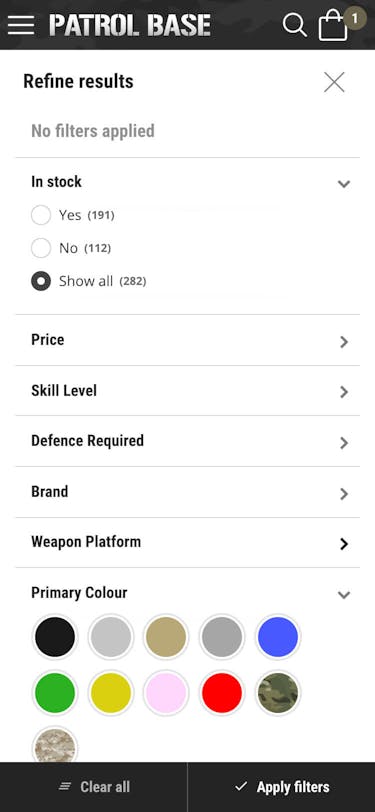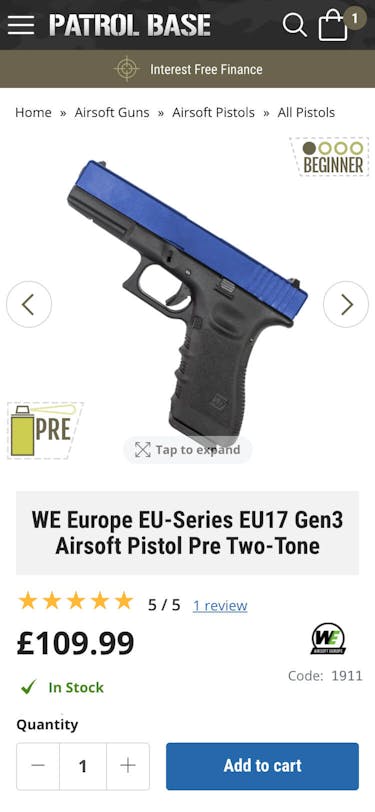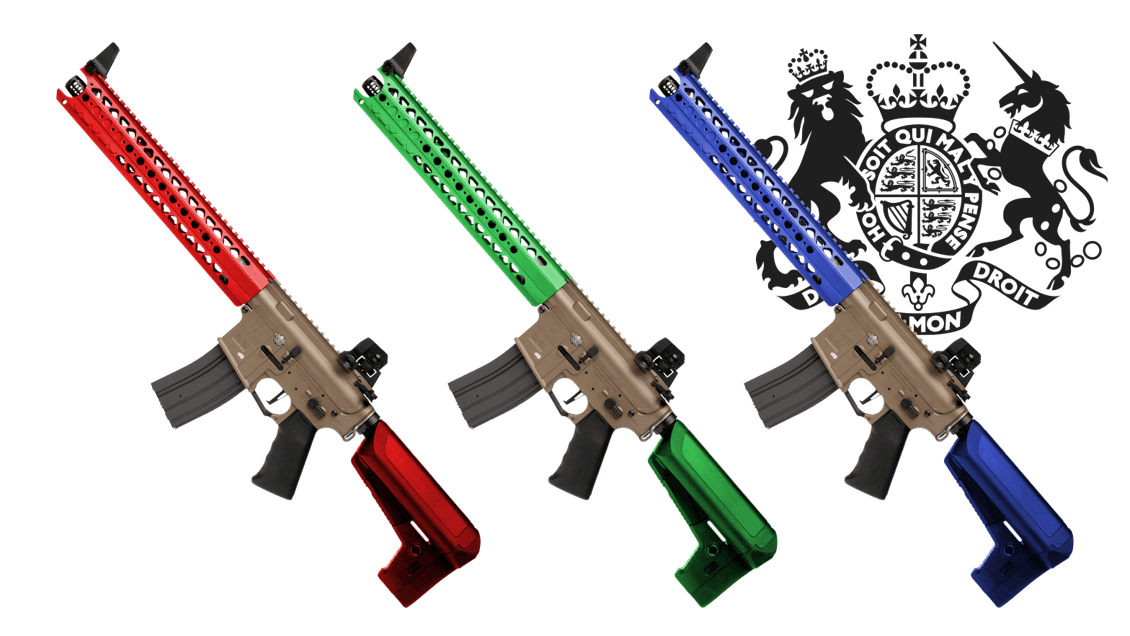 Customer defence module: Bespoke development.
Patrol Base supply replica guns in the form of 'airsoft guns' and due to the nature of these items, the sale of them requires conformance with certain regulations. There are two advanced modules built into the Voracio platform that make this possible, Checkout Defence and Acceptance Criteria. Both were co-created by Patrol Base and Voracio, we worked together initially to scope out in fine detail the requirements of these modules. Although Checkout Defence is for the most part highly bespoke to Patrol Base, the Acceptance Criteria module is used by several of our merchants.
It's mission critical that we can check customers' airsoft defence and offer our two-tone service for anyone without a valid defence. We spent a lot of time fleshing out our individual requirements for what we knew was something totally unique to our business needs. We are extremely happy with the results and it plays a fundamental role in our checkout flow.
"Working alongside our Defence Module, the Acceptance Criteria Module ensure we are able to prove a high level of due diligence on customer orders" Chris says.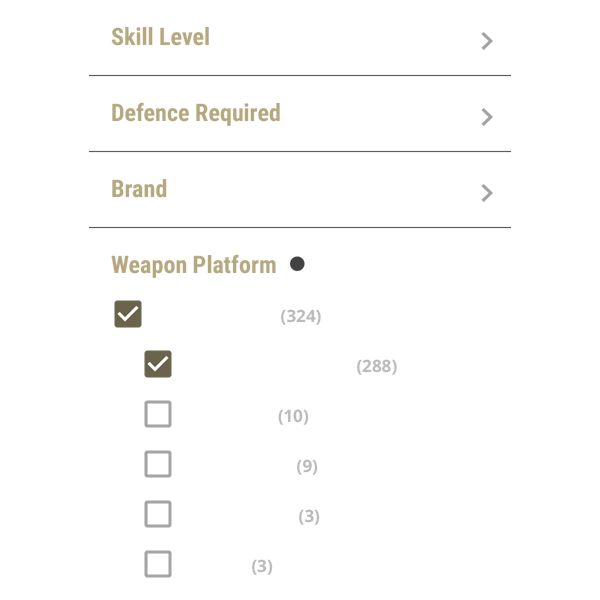 Incredible Product Information Management (PIM)
The efforts of the Patrol Base merchandising team in the use of the Voracio PIM system is second to none. It's fantastic to experience our merchants thoroughly utilising our PIM system to the extent that their product data is far superior than any of their competitors, bar none! Their product descriptions are truly enriched by incredibly detailed product specifications, powered by Voracio's 'unlimited usage' attributes system.
We aim to provide our customers with the most heavily detailed product data possible. Many of our customers are extremely clued up and often want to know the intricate ins and outs of a product. Attribute management in Voracio enables this in such an innovative and efficient way, I couldn't imagine how we'd cope without it!
We often use the bulk processing feature, mostly for adding attribute information to multiple products at once, this saves us a vast amount of time, we can add spec data to hundreds of products literally within seconds, love it!", Sam says.
The team at Patrol Base have taken the time to build out a very well organised attribute structure. Spanning hundreds of attributes and thousands of associated values, they have grouped attributes into sets and within those sets, grouped into relevant sections. Icons have been used where relevant for attributes and associated values shown in the product specification. Many of those same attributes have been used to create filters, also organised into sets, empowering the user with a comprehensive level of filtering on product listing pages. Such is the capabilities of the Voracio PIM system, use of a third party Product Data Platform is not required.
Further to a somewhat granular study of our Google Analytics, we know that the more detail we place within the product specification, the better those products perform, which ultimately assists our conversion rates.
Informative and engaging content
Patrol Base have invested much time and energy into the creation of quality online content, the Voracio Editorial Suite plays a key role in the delivery of this content to their users. Their previous website, which was built upon our legacy platform, featured a separate wordpress blog hosted on a sub domain. As part of the replatforming process to Voracio SaaS Commerce, they migrated all legacy blog content to the Voracio Editorial Suite, a process which involved the transfer and re-structuring of hundreds of pages, all complete with 301 redirects.
Some of our most successful merchants are those who fully appreciate the importance of quality content and how the Editorial Suite enables them with many options for how to present this content throughout the website. Patrol Base are one such successful merchant. Their content spans buying guides, beginners guides, instructional guides, tips, events, general advice, video articles and much more.
Our editorial pages are a strong source of organic traffic, but they're not there just to drive new traffic, we direct customers to our articles from various locations of our site, we want to keep them as engaged as possible
360° images
Having set up a dedicated in-house studio for photography and video production, Patrol Base have utilised Voracio's 360° images feature to add unrivalled visual detail for key products.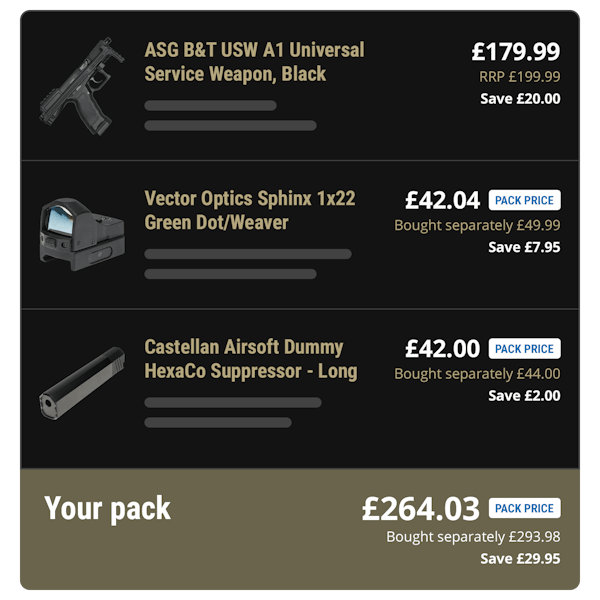 Special priced packs
Patrol Base have created customisable packs using Voracio's assembled products feature. These packs include tailored accessories best suited to the primary product and offer discounts on individual items only available when purchased as a bundle.
Award winning music shop specialising in traditional musical instruments.

Customers are increasingly impressed by our website. Its modern, professional design and intuitive user experience set us apart from the competition.

Transformative product management for this market leading online appliance retailer.

Having an appetite for more flexible, more scalable ecommerce, Little Angels replatformed from Shopify to Voracio.

The support from Voracio has been second to none, they are quite literally an extension of our team.