Eagle Music
Award winning music shop specialising in traditional musical instruments
Website Highlights

Large Navigation Structure
Rich Product Data
Engaging Banner Usage
Help & Advice Articles
Facet Filtering
Strong Social Proofing
5 Star Reviews
Services Module Usage
Brand Focused Landing Pages
Multi Inventory Feeds
Open Banking
SEO Authority Figure
Intelligent Search
User Flow Choice
POS Integration

Professional Services

Brand Identity
Attribute Structure Build
Navigation & Listings Build
Banner Design
Custom Landing Pages
Content Strategy
Google Ads Management
Email Marketing
Advanced Reviews Setup
Ecommerce Consultancy
Platform Consultancy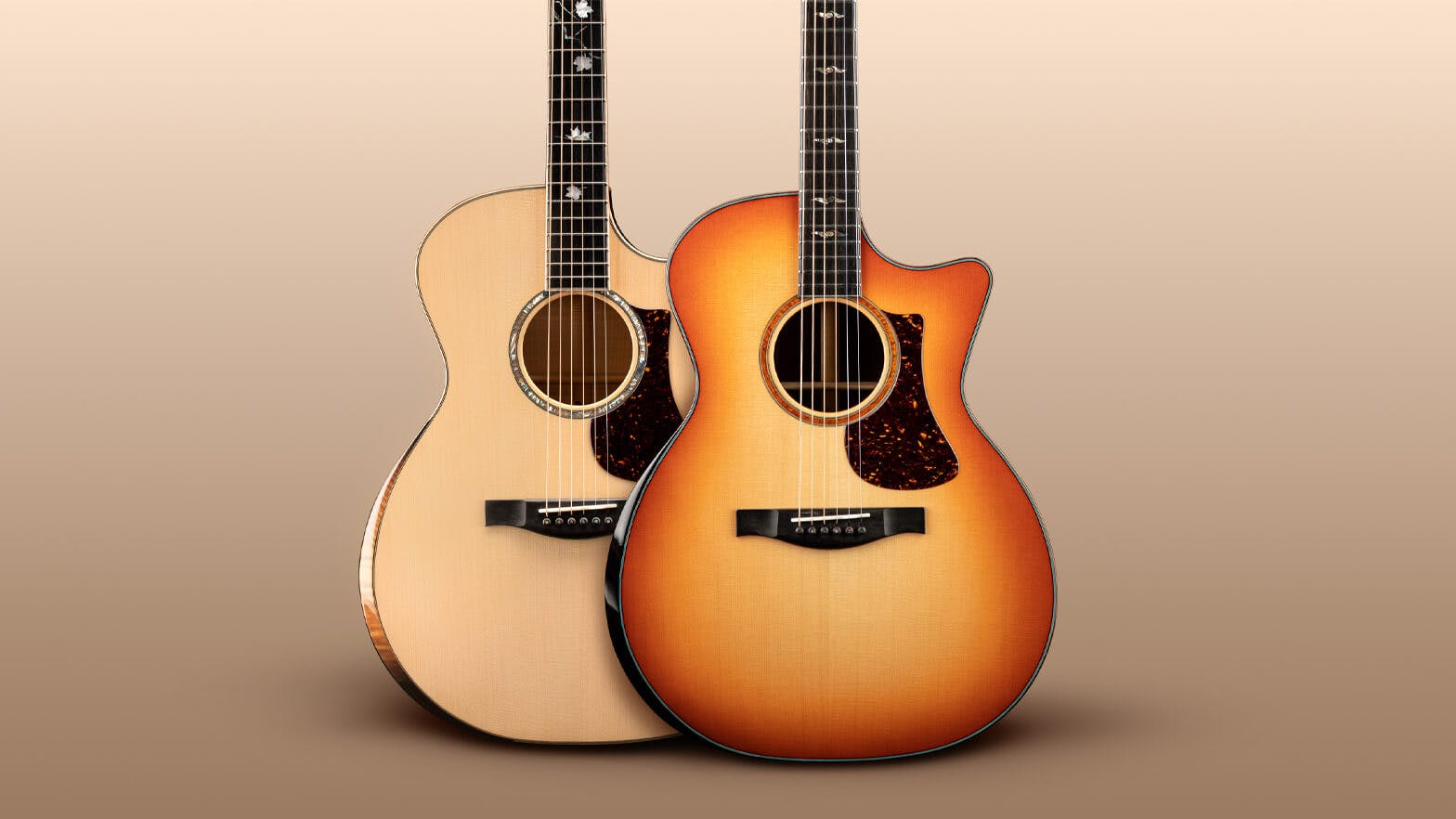 Musical excellence with Voracio since 2003
Eagle Music Shop are a musical instruments retailer who have formed a close relationship with Voracio since their inception. Their current and highly polished website is the third generation having replatformed from our legacy platform to Voracio SaaS Commerce in 2019.
Founded in 2003 by multi instrumentalist and ex professional musician Steve Noon, alongside daughter Rachel Price. Since their first online order in 2003, Eagle have grown to become one of the world's best-loved traditional music specialists, having a huge and loyal customer base throughout the UK and worldwide. The team at Eagle are passionate about providing their customers with the best possible experience online and in-store.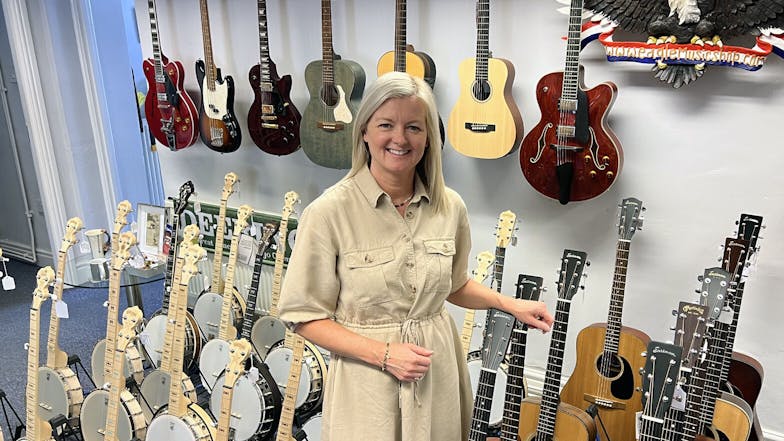 Eagle is incredibly customer centric, they have built a formidable reputation for customer service and this emanates throughout the website by means of independent reviews and testimonials. They are unique amongst online retailers in having a +99% positive rating with the independent online review company eKomi and have maintained an average rating of over 4.9/5 for many years.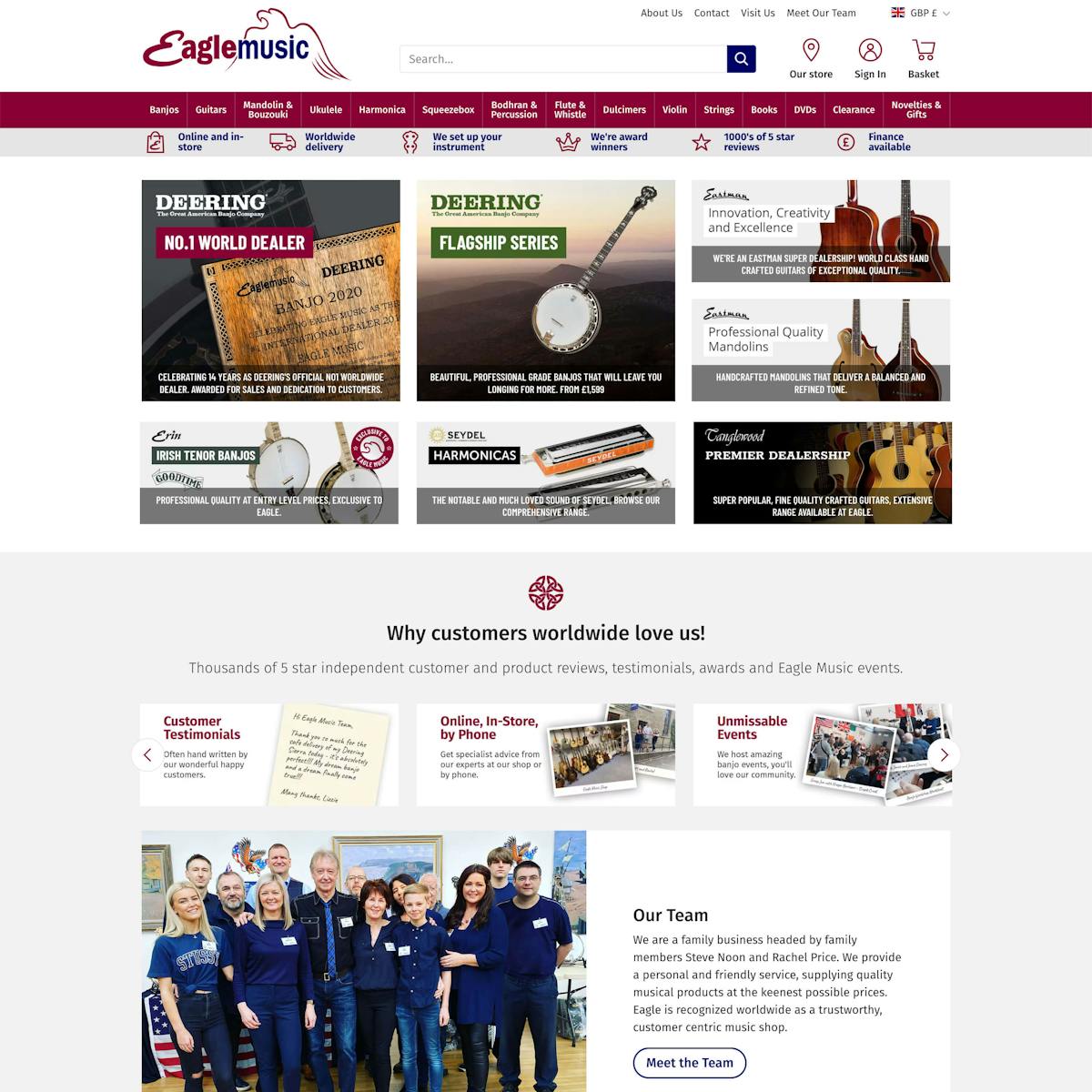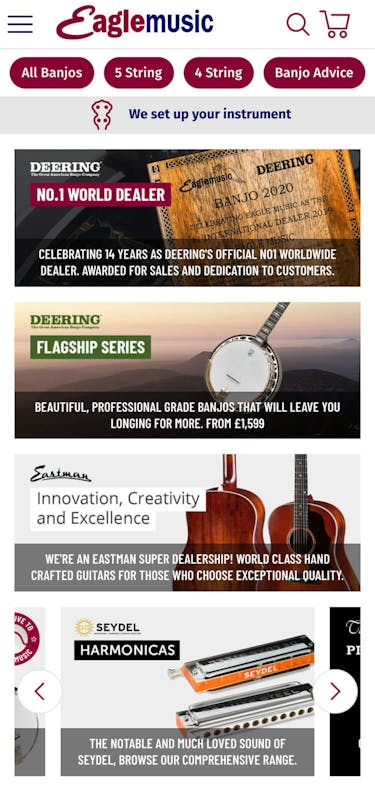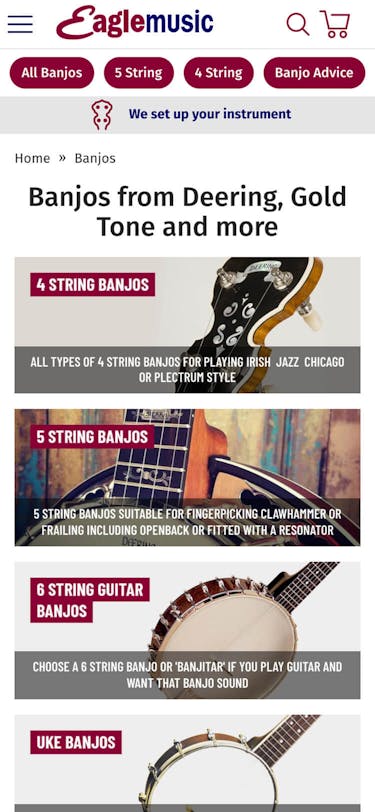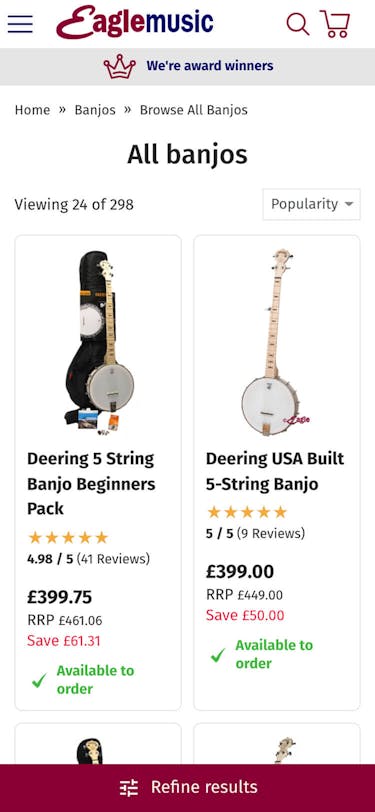 Customers are increasingly impressed by our website. Its modern, professional design and intuitive user experience set us apart from the competition, allowing users to easily find what they're looking for with minimal effort. This appreciation is reflected in the steady stream of feedback we receive from customers over the phone, via email, or in a review comment. Every day we hear compliments about our website.
Knowledge transfer empowered by our Editorial Suite
Eagle's experienced sales team, many of whom are musicians themselves, serve up incredibly knowledgeable advice to help their customers make well informed purchase decisions. This knowledge and advice is offered in-store, over the phone and in abundance via their website. It's here, alongside a wealth of carefully curated landing pages, the Voracio Editorial Suite plays an essential role.
Landing pages, topics, topic groups, articles and article groups all play a role in the fabulous flexibility of the Voracio Editorial Suite. It makes for incredibly engaging landing pages, drawing the user in with engaging content, alongside drawing in highly qualified organic traffic from Google and other search engines.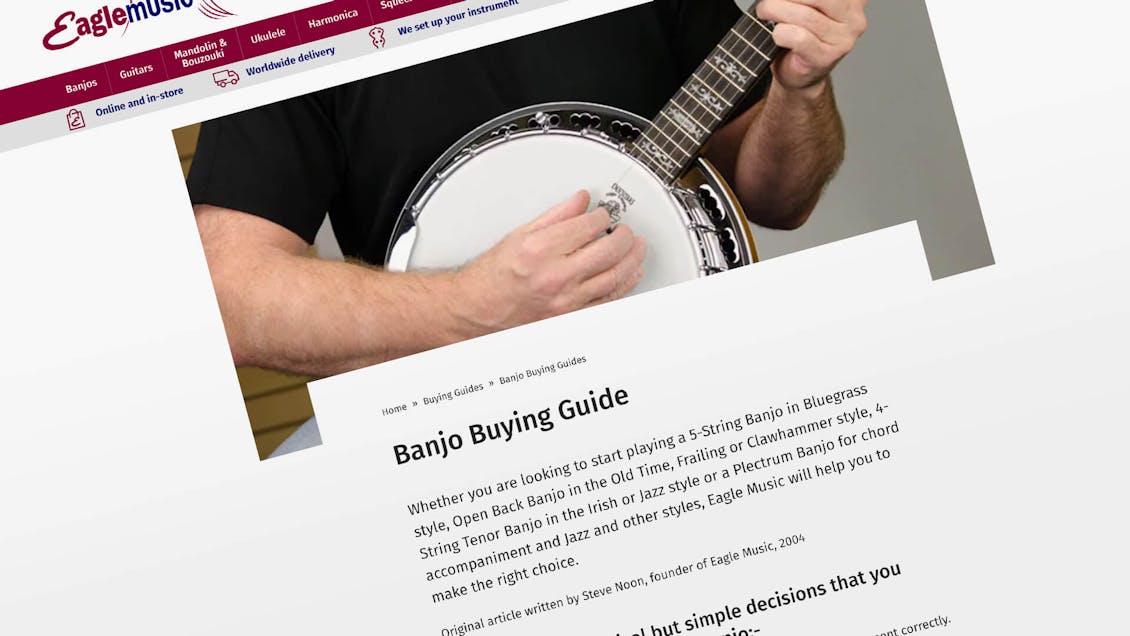 Buying guides
Eagle has and continues to curate a comprehensive range of buying guides. This transfer of knowledge to the website from the experienced sales team instils trust and authority. The guides have a dedicated section on the website and are also featured on the menu and landing page of primary website sections. Many questions are answered to help the customer with their buying decision.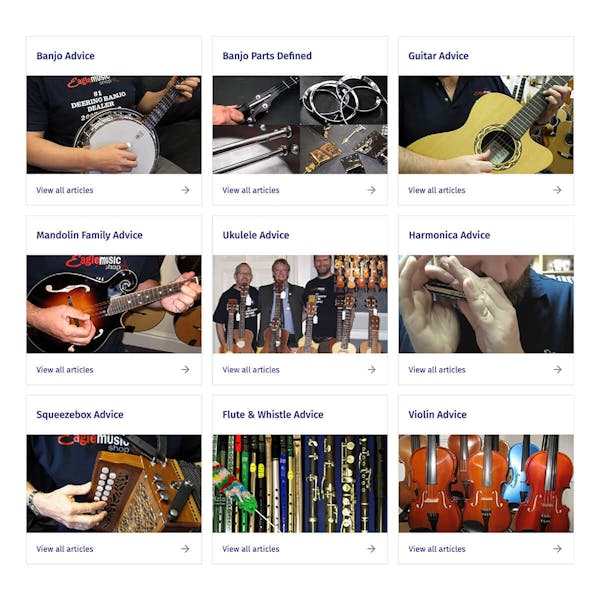 Information & Advice
Engaging content on the website isn't just about helping the customer make a purchase. Eagle have written many general information and advice articles covering a range of topics that are of great interest to their customers, these are another source of highly qualified traffic.
Events & Awards
Eagle Music are proud to have hosted some fantastic musical events over the years, most notable are their Deering Banjo events, featuring some of the world's most highly acclaimed musicians. These events have been showcased on the website through use of the Editorial Suite.
Our informative content is an incredibly important asset to our website. Our extensive knowledge base means that visitors can find the answers they're looking for quickly and easily, whether it's due to requests for help or just part of their research. We are also able to cultivate and add new content with ease.
A huge online store having a diverse product catalogue
The Eagle Music website hosts a large and diverse range of products, spanning many types of musical instruments, a huge range of accessories, books and dvd's. This spans a broad range of instrument brands including some of the world's top makers, many of whom have their own sub brands and instrument series. The unlimited use of configurable attributes and flexibility of the Voracio navigation tree builder makes such a rich navigation structure possible with no coding skills required.
The Eagle navigation menu has been methodically built to offer the user an intuitive browsing experience. Real estate on a website menu is limited and when working with a large and diverse product range it can be a challenge to ensure a strong user experience. The Eagle Music menu excels in this field which shows in their analytics and website experience surveys.
Social proof
Testimonials, reviews, events, awards, team photo and social likes are all combined into an aesthetically pleasing banner group. This is strategically placed on the home page and other important landing pages to quickly inform the user that Eagle is a highly trustworthy retailer. Its well considered page elements like this can have tangible effects on bounce rates.
High converting landing pages
Voracio enables you to build high-converting landing pages quickly and with no coding skills required. Our landing page features offer plenty of scope for creativity, especially with the huge choice of banner styles and layouts. Eagle Music features an array of top quality landing pages with varying styles and layouts.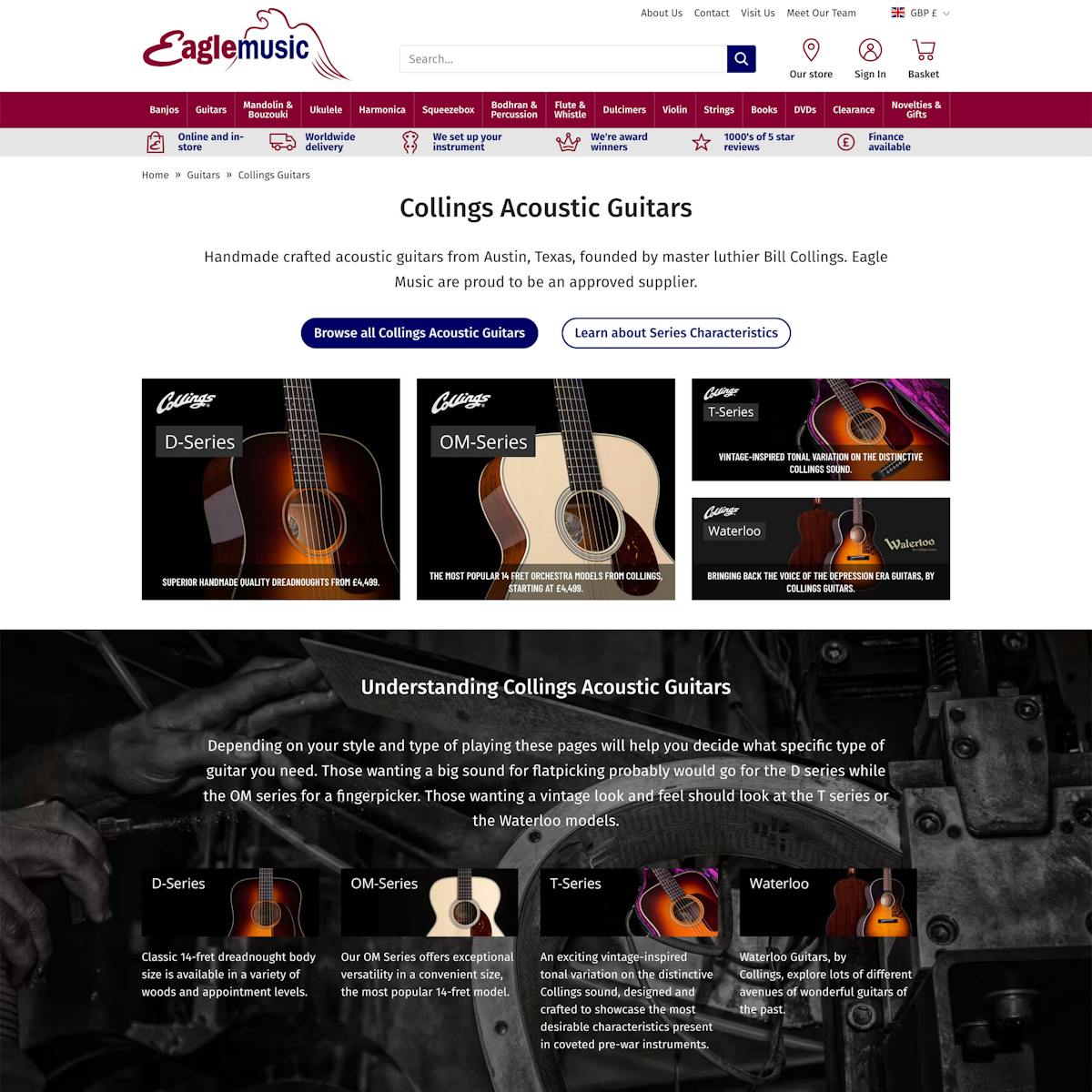 Primary brand landing pages, alongside brand 'instrument series' pages have been given particular detailed attention. For example, Eagle Music is the worldwide renown award winning master dealership for 'The Deering Banjo Company'. Eagle Music stocks a comprehensive range of Deering Banjos, who's ranges are organised into series lines. Alongside a super efficient attributes structure, we've helped Eagle to build out fantastic brand landing pages that engage the user with informative content and easily direct them to relevant instrument types and series. These pages provide an insight into brand ranges and feature popular products, videos and other supporting material.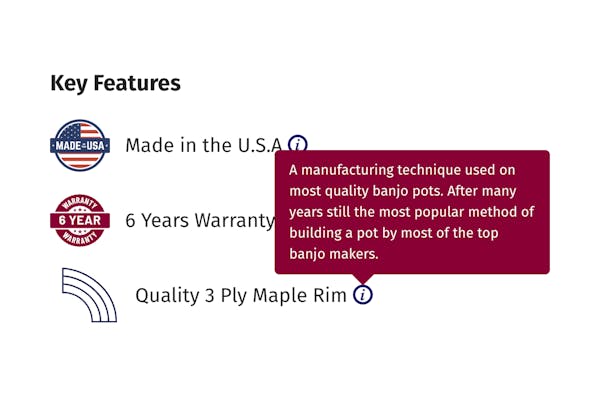 Rich product specifications with dynamic key features
Eagle Music has built out a rich data structure that can be experienced on many parts of the website, notably within product specifications. Banjos for example use a detailed attribute set consisting of many attributes neatly organised into groups. Product attributes that are more significant to the customers buying decision, are often converted and displayed as dynamic 'Key Features' higher up the page, by use of a module we call 'Feature Bullets'.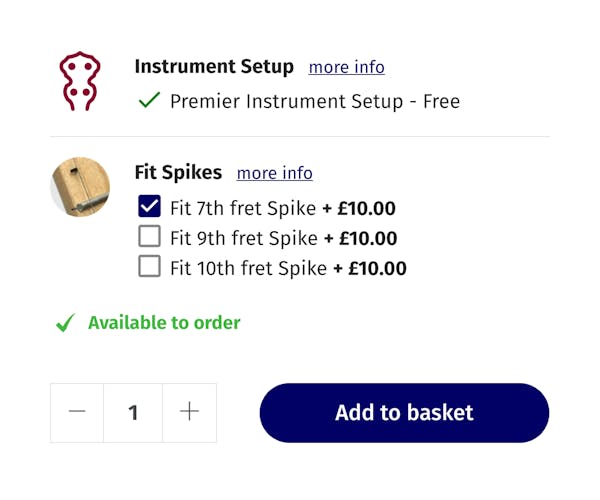 Add-on services from detail pages through checkout
Eagle Music is utilising Voracio's Services module to offer workshop services for their customers. Stringed instruments have a free setup service that the user can select if required. They also offer a spike fitting service for new banjos as part of their workshop setup process. Customers can read more information about the service before choosing from the assigned options.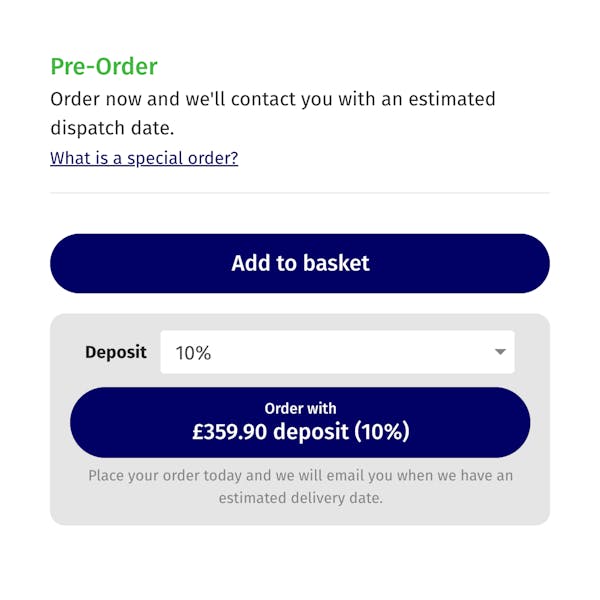 Deposit payments
Another great feature that Eagle uses is deposit payments. Certain products are configured to allow purchase by means of a deposit payment. This is often used for special order products, that aren't held in stock and must be ordered in from their supplier.
Flexible stock messages
The Eagle Music website uses Voracio's inventory control. Due to the complex nature of supplier inventory, it is impossible to hold exact stock levels for all the products they sell. For example, in many cases an instrument may be available for purchase, but the order would be placed as a 'special order', which in turn may require a custom build slot to be arranged at the supplier's manufacturing facility, which often involves a lot of 'hand made' processes.
Delivery estimates for such special orders can vary greatly and this can be a real challenge for retailers with such a diverse product range. This is why we developed the highly flexible Voracio Stock Messaging system which is used by several of our merchants.
An unlimited number of stock messages can be created that can 'Smart Target' to products. Each stock message offers intuitive configuration, including delivery delay times, smart targeting options, purchase availability and more. It's a fantastic and unique feature that merchants such as Eagle Music couldn't live without, it truly takes the headache out of a common pain point for retailers with supplier complexities.
In December '22 we enhanced our stock message module to comply with new policies that Google Shopping are gradually enforcing upon their merchants, another great example of our pro-active feature enhancements.
Telephone orders handled by Voracio
The Eagle Music website enables its users to find the right products fast. It's informative on every level, so obviously it made sense to utilise the website experience for the processing of mail order telephone sales. The vast majority of Eagle's customers simply order online, but there are also circumstances when a customer will want to talk in person and order over the phone (like back in the day). The Voracio telephone order module makes this possible.
Natural dog treats retailer let off the leash with replatform from WIX to Voracio.

The guys at Voracio have taken some of the things we've mentioned in meetings and created unique features that differentiate us in what is an increasingly crowded marketplace. A proper joy to work with!

Voracio powers the UK's leading lawn care website for everything from feeding to weeding.

Having been with Voracio for several years, the support we have received from James and the team at Voracio has been exemplary, I highly recommend them without any reservation.

Powered by Voracio, Abaris have a proven track record in the supply of technical equipment and apparel for the Outdoor Professional.

I can highly recommend the team at Voracio for anyone seeking a highly capable platform backed up with personalised support.